PancakeSwap Launches First-Ever Affiliate Program with V3, Building the Best DEX that is Empowered by the Community
2023-04-04
Hello PancakeSwap Community!
We are thrilled to announce the launch of our affiliate program, which coincides with the highly anticipated V3 release! We want to make sure that everyone has access to PancakeSwap and the benefits of decentralized exchanges, and our affiliate program is one way we are achieving this goal.
Our community-driven program allows affiliates to earn up to a 20% commission on most of their referees' trading fees across both BNB Chain and Ethereum. We strive to offer the lowest and the most competitive trading fees among all decentralized exchanges, and we believe our affiliate program will help us achieve this.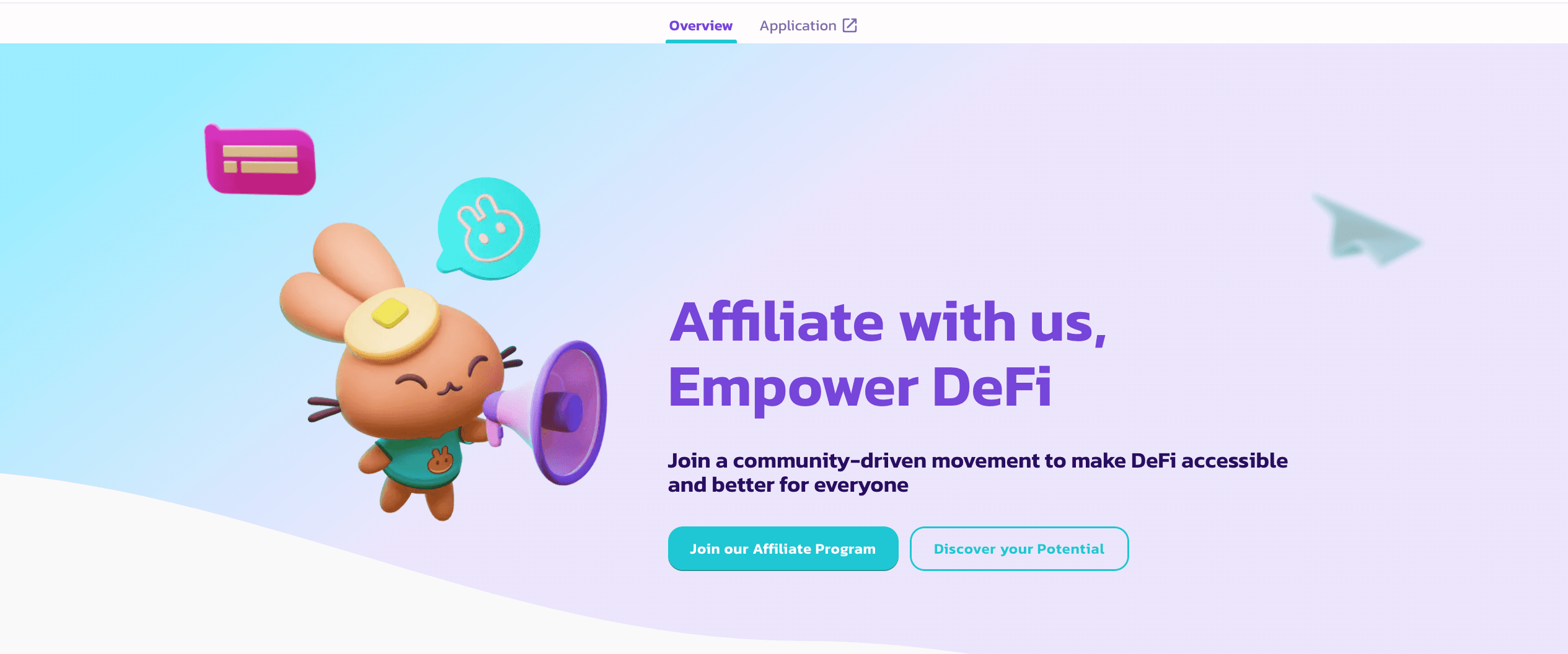 Let's join our community-driven movement to make PancakeSwap accessible for everyone: https://pancakeswap.finance/affiliates-program
Partnering with PancakeSwap offers affiliates the opportunity to collaborate with one of the most reputable brands in the DeFi industry. We are looking for opinion leaders with a minimum of 10,000 followers across social media platforms, a strong interest in the DeFi space, and the enthusiasm to share their knowledge with their audience. By working together, we can make DeFi more accessible for everyone.
As an affiliate, you can earn a 3% commission on trading fees generated by your referees on their engagement with most Swap and StableSwap trades, and enjoy a 20% commission for most perpetual trading fees generated by your referees on both the BNB Chain and Ethereum! Additionally, you can choose to split the commission with your referees via options of 0%, 25%, 50%, 75%, or 100% on Swap and StableSwap trades. This flexible commission-splitting structure benefits both parties and fosters stronger relationships while making rewards even more enticing! For perpetual trades, your referees can also get a 20% discount on the trading fees they paid on both BNB Chain and Ethereum.
Note: Perpetuals are prohibited from certain jurisdictions, please ensure you are eligible to trade derivatives on this platform.
For more information on our commission structure, please check out our documentation.
User-friendly dashboard (Coming Soon!)
We understand that the world of DeFi can be complex, and we want to make it as easy as possible for you to manage your referrals and track your earnings. That's why we're creating a user-friendly dashboard that will offer you all the necessary tools and information to effectively manage your referrals and track your earnings. You will receive passive income every month in the form of CAKE and our community managers will provide personalized assistance to ensure you receive the support you need every step of the way.
Joining the Pancakeswap community as an affiliate is simple! Just submit your application here , share your unique affiliate link with your community, and start earning commissions on most of your referees' trades. By becoming a part of our community, you'll be joining a movement to make DeFi more accessible and better for everyone. We believe this program will be a crucial step in achieving our goal, and we would love to have you onboard!
Stack'em 🥞
The Chef's 🐰