Introducing PancakeSwap Gaming Marketplace: A GameFi Revolution with 1.5 Million Potential Monthly Players
2023-11-15
GM PancakeSwap Fam!
We're excited to unveil our newest and most captivating venture – the PancakeSwap Gaming Marketplace! This is far more than just another feature; it's a significant leap into the exhilarating domain of blockchain gaming, fueled by our community's enthusiasm and the boundless potential of GameFi. After launching our initial game Pancake Protectors in recent months, PancakeSwap is now excited to introduce more games and welcome GameFi developers to become a part of our growing marketplace!
PancakeSwap Gaming Marketplace: https://pancakeswap.games/
The Milestone of Pancake Protectors
Pancake Protectors marks a notable debut in the world of GameFi with PancakeSwap. This creation, brought to life with Mobox, fuses the tower-defense with the competitive edge of player-versus-player (PvP) battles, all while catering to the GameFi community, CAKE collectors, Pancake Squad and Bunnies holders. Attracting over 25,000 players daily at our busiest, the game has shown commendable performance. Such player turnout highlights the opportunities that come from collaborations with game studios and developers, as the kitchen aims to continually improve and expand our gaming initiatives.If you're just starting out or looking to master Pancake Protectors, don't miss our comprehensive video guides—they're the perfect starting point to get you game-ready!
Get Ready for PancakeSwap Gaming Marketplace
We're supercharged to roll out the PancakeSwap Gaming Marketplace – the ultimate hub for gamers, developers and community to play , build , and connect ! This is where gaming meets limitless creativity, a place for everyone to belong, no matter which blockchain they champion.. At launch, we will feature our flagship game, "Pancake Protectors", and Binary X's "Pancake Mayor" game, with more to come!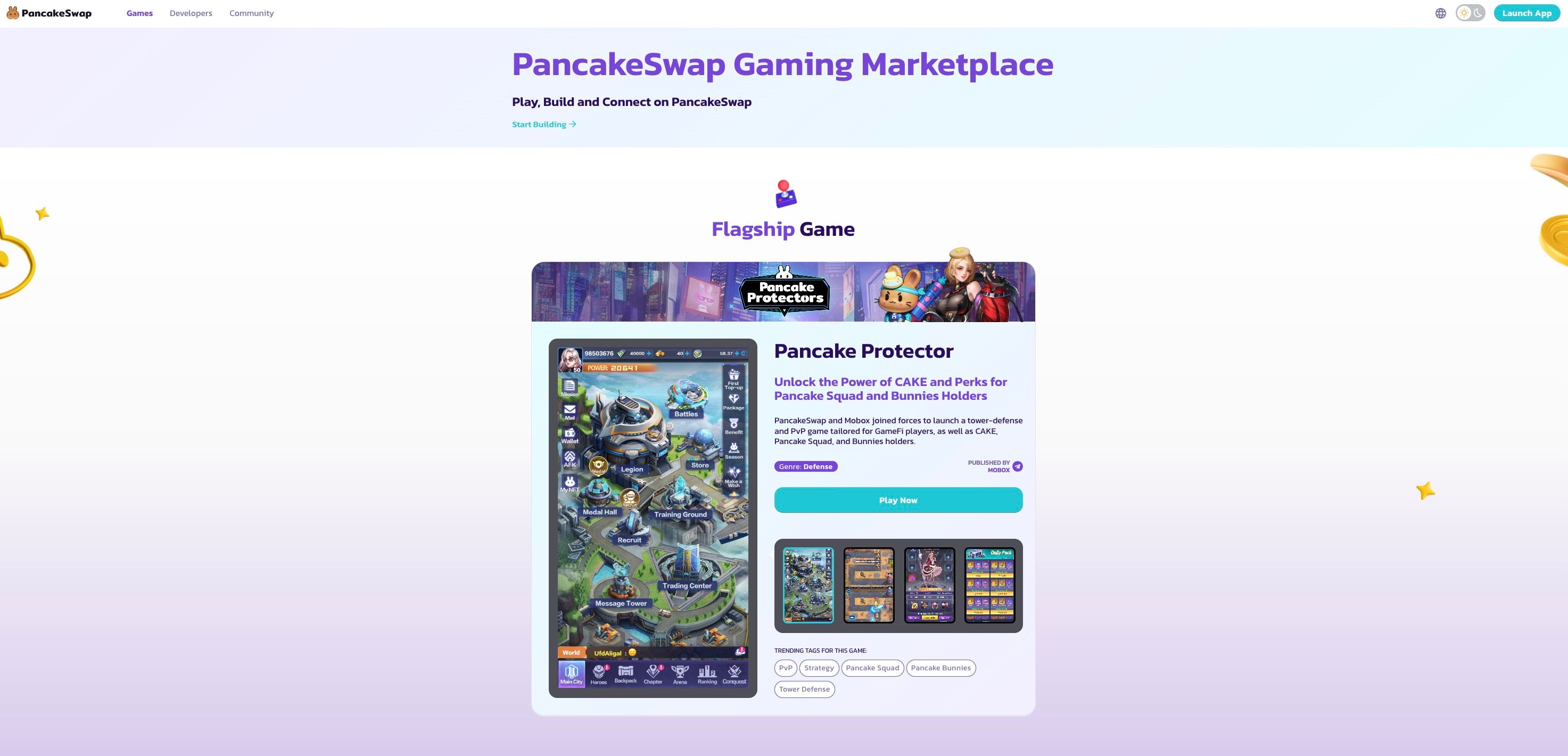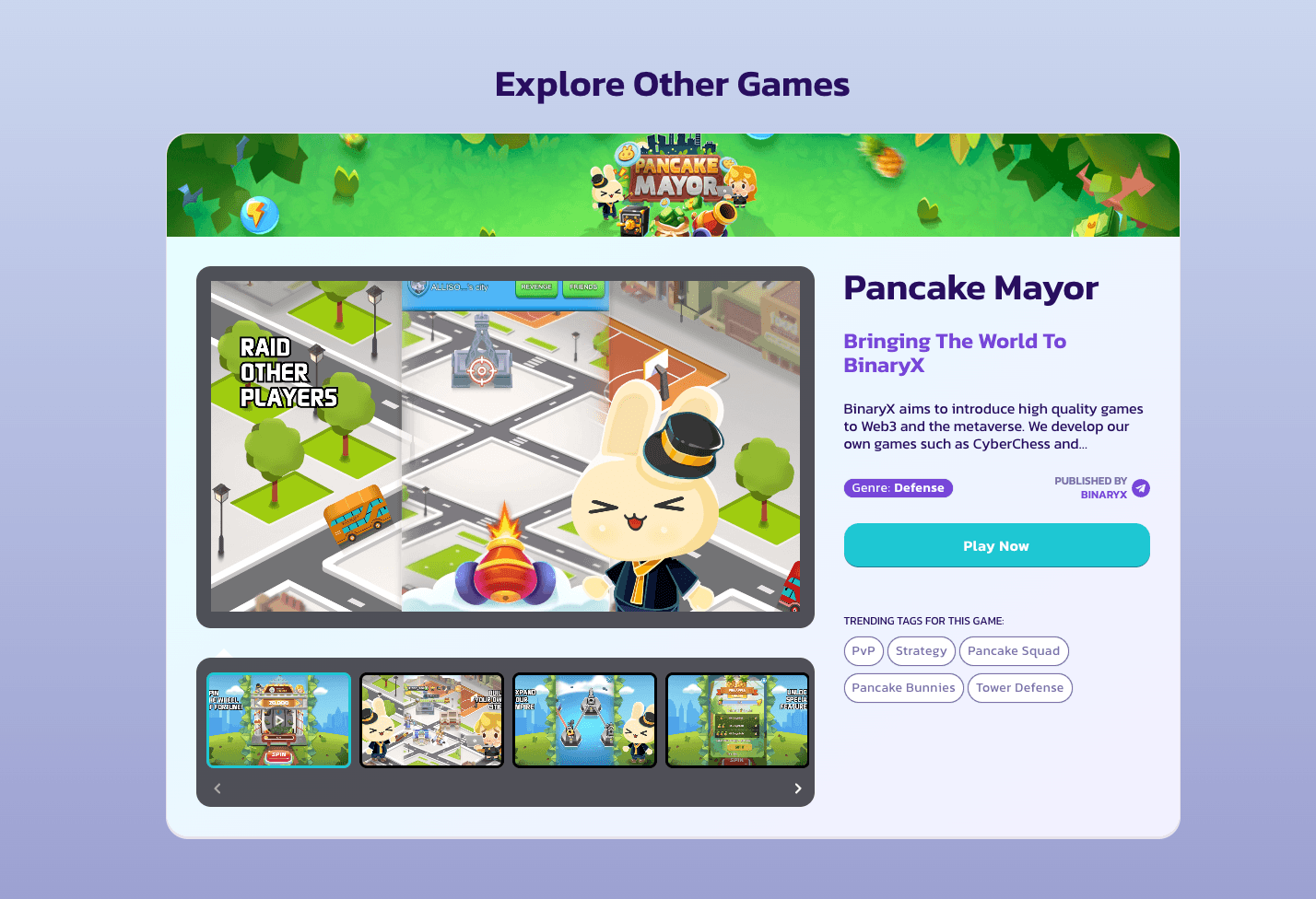 Gamers & Community, Immerse yourself in a diverse array of games all unified under user-friendly interface. Here, you're not just playing games – you're stepping into a vibrant community where you can engage with fellow gamers, exchange strategies, and stay up-to-date with the latest game information . It's more than a platform; it's your gateway to the pulse of gaming culture!
CAKE & NFT holders, most of our games are integrated with CAKE token and NFT, expanding the PancakeSwap ecosystem and giving you more ways to enjoy and benefit from the gameplay. Your love for CAKE just got more rewarding as you dive into game after game.
Developers' Hub, welcome to your new launchpad! Showcase your gaming masterpieces to an enthusiastic audience in the most dynamic DEX arena. With a whopping 1.5 million potential monthly players, your games have the spotlight and audience they deserve. Whether you're just sketching out ideas or polishing a completed project, we're all ears for your proposal and how it can synergize with PancakeSwap.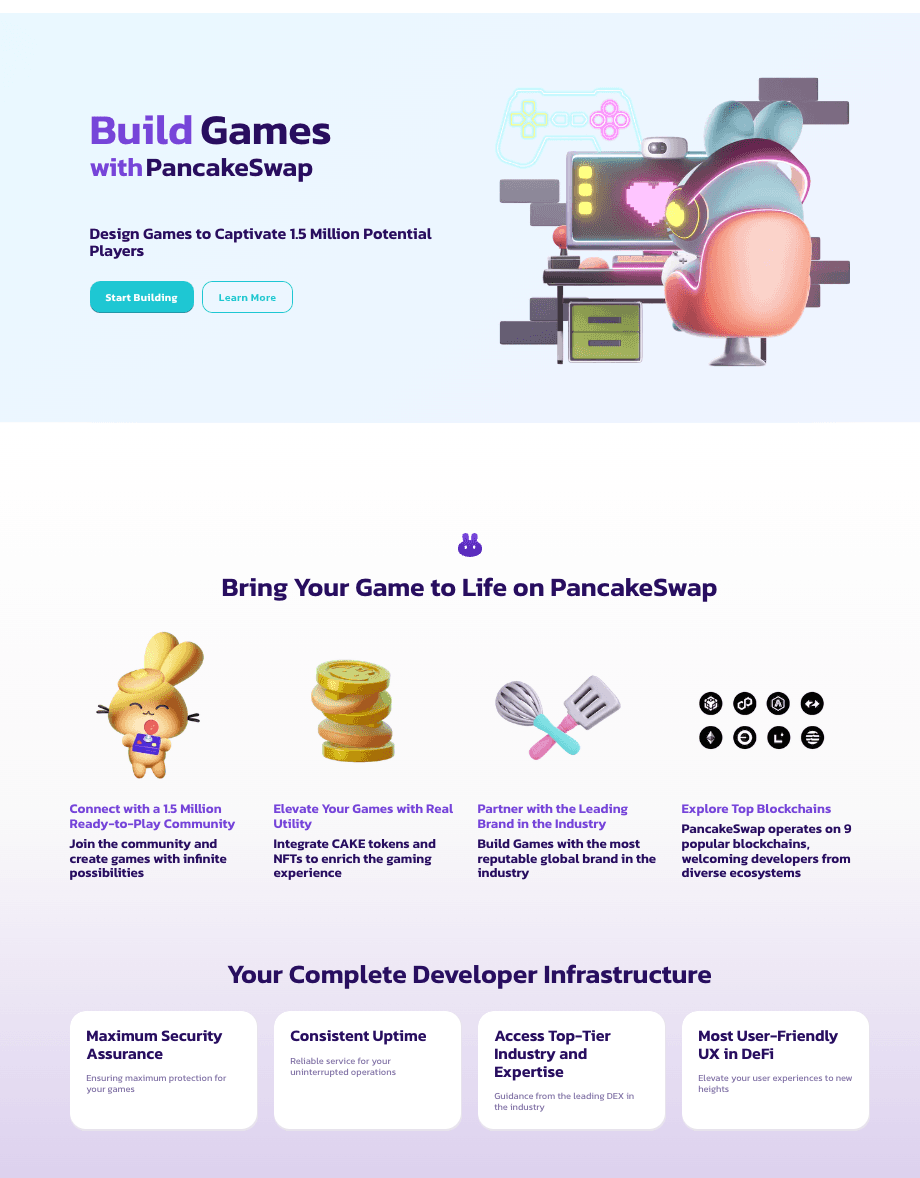 Calling All Game Creators: Ignite Your Imagination at PancakeSwap!
Hey there, Game Developers! It's your moment to shine in the spotlight of the PancakeSwap Gaming Marketplace. We're extending an enthusiastic invitation to you to join our vibrant voyage into the heart of GameFi. Here's why you should set your sails with us:
Design Games to Captivate 1.5 Million Potential Monthly Players: With PancakeSwap's extensive user base, you can access a vast audience of potential players ready to embrace your creations.Whether your game is already a crowd favorite or it's the next big idea waiting to be unveiled, we're here to amplify your reach.
Bring Your Game to Life on PancakeSwap: Our platform provides the chance to seamlessly integrate CAKE tokens and NFTs into your games, giving you the freedom to enhance the gaming experience and explore fresh monetization opportunities, without any exclusive commitments to our platform.
Build Games with a Global Brand: PancakeSwap is a recognized and trusted name in the DeFi space. By building games here, you tap into the reputation and credibility of a global brand.
Support Across Ecosystems: PancakeSwap operates on nine popular blockchains, providing a welcoming environment for developers from diverse ecosystems. This ensures the broadest reach for your games.
User-Friendly UX in DeFi: Our platform has the most user-friendly experience in DeFi. This ensures that gamers can effortlessly navigate and enjoy your creations.
Maximum Security Assurance: We prioritize the security of developers and players, offering maximum security assurance for all transactions and interactions on our platform.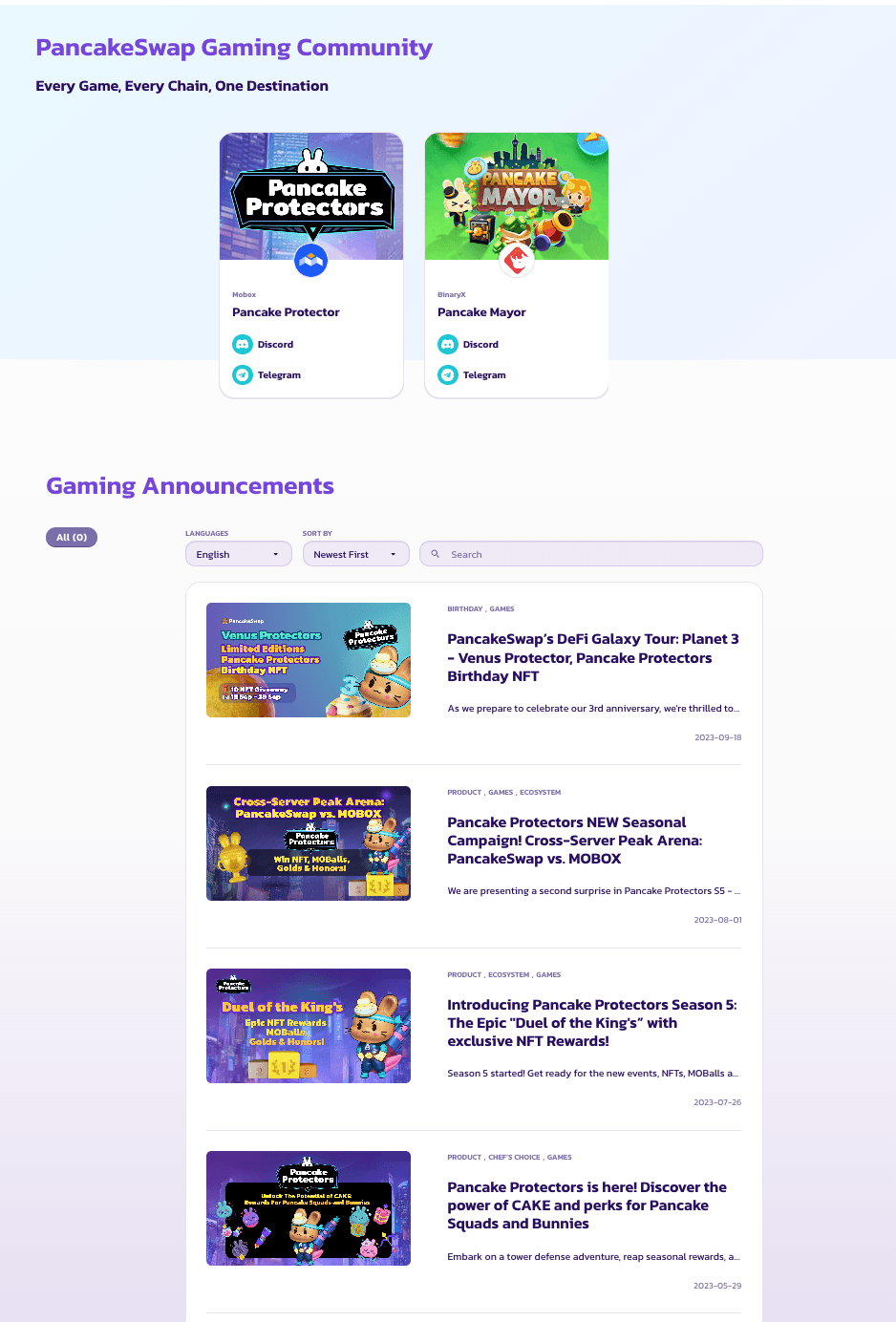 Play, Build and Connect on PancakeSwap Now
The launch of the PancakeSwap Gaming Marketplace marks an exciting new chapter in our journey. We invite gamers and developers to join us as we venture into the dynamic world of GameFi. Together, we'll create a gaming ecosystem that's vibrant, innovative, and, above all, incredibly fun. Let's play, build, and connect as we redefine the future of blockchain gaming right here on PancakeSwap.
Happy Gaming!
The Chefs