Introducing Revenue Sharing Pool: Stake CAKE and Share in PancakeSwap's v3 Trading Fee Revenues!
Product
Community
Chef's choice
2023-07-30
GM Community,
We are excited to reveal the launch of our highly anticipated Revenue Sharing Pool. This groundbreaking utility allows Fixed-Term CAKE stakers to benefit from the growth and success of PancakeSwap directly. While DEXs generates revenues from trading fees, PancakeSwap stands apart by distributing a portion of our revenues back to Fixed-Term CAKE stakers weekly, thus allowing our community to participate directly and share in our protocol's growth and success. To express our appreciation to our loyal Fixed-Term CAKE stakers, we will include the v3 trading volume from June 2023 onwards as part of the revenue sharing pool distribution.
By staking your CAKE in our CAKE pool, you already enjoy APR. However, with the introduction of the Revenue Sharing Pool, your Fixed-Term CAKE rewards will be amplified even further. In addition to the APR, you will now directly earn real yield from the trading fee revenues generated by PancakeSwaps v3 trading pairs. Specifically, fixed-term CAKE stakers will receive 5% of the trading fee revenues from ALL PancakeSwap v3 pairs with 0.01% and 0.05% fee tiers on a recurring and weekly basis. This means your CAKE rewards and benefits will increase, creating a new opportunity for existing and new Fixed-Term CAKE stakers. With these two fee tiers accounting for a substantial 80-90% of PancakeSwap v3 volumes, Fixed-Term CAKE stakers can expect rewards regularly.
What are the Benefits of the Revenue Sharing Pool?
1. Stake CAKE to Share in PancakeSwap's v3 Trading Fee Revenues!
Staking CAKE just got a whole lot sweeter. Our groundbreaking Revenue Sharing Pool allows Fixed-Term CAKE stakers to share 5% of the revenues generated from ALL v3 trading pairs with 0.01% and 0.05% fee tiers. As a Fixed-Term CAKE staker, you will not only enjoy the APR from staking CAKE but also earn real yield directly from the revenues of PancakeSwap's v3 trading fees. For new users considering Fixed-Term staking, there has never been a better time to start staking CAKE.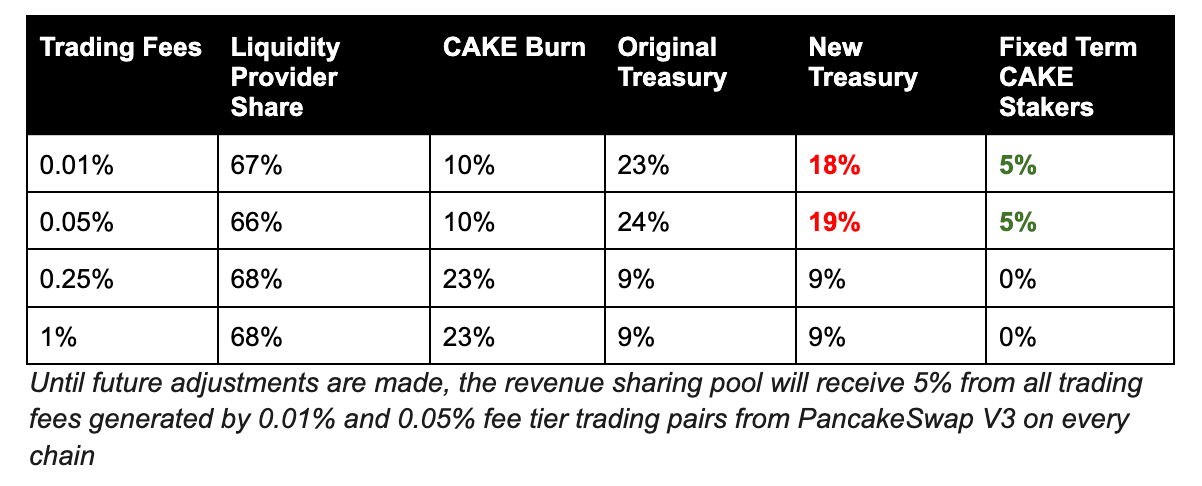 2. Real Yield and Continued Growth: When We Stack'em, You Stack'em
The Revenue Sharing Pool is designed to align with our long-term vision of sustainability and community-driven growth. As PancakeSwap thrives and attracts more users, our trading volumes have skyrocketed. PancakeSwap's total v3 trading volumes have crossed $12.5 billion, signaling substantial potential rewards. Moreover, our multichain expansion, including the recent development of Polygon zkEVM and zkSync Era, promised even more significant growth and rewards. The multichain expansion increases opportunities for CAKE stakers to earn their share from the trading fees, ensuring real yield and continued growth for all participants.
3. A Sustainable and Rewarding Model for CAKE Holders
CAKE is already one of the most utility-rich tokens in the ecosystem. With the introduction of the Revenue Sharing Pool, we introduce a sustainable model based on real yield and growth. This model ensures that the value of CAKE is not diluted and enhances the benefits of holding CAKE. Additionally, it serves as a valuable tool to mitigate inflation. By directly profiting from the growth of the PancakeSwap protocol, CAKE holders participate in a new sustainable model that benefits the entire community.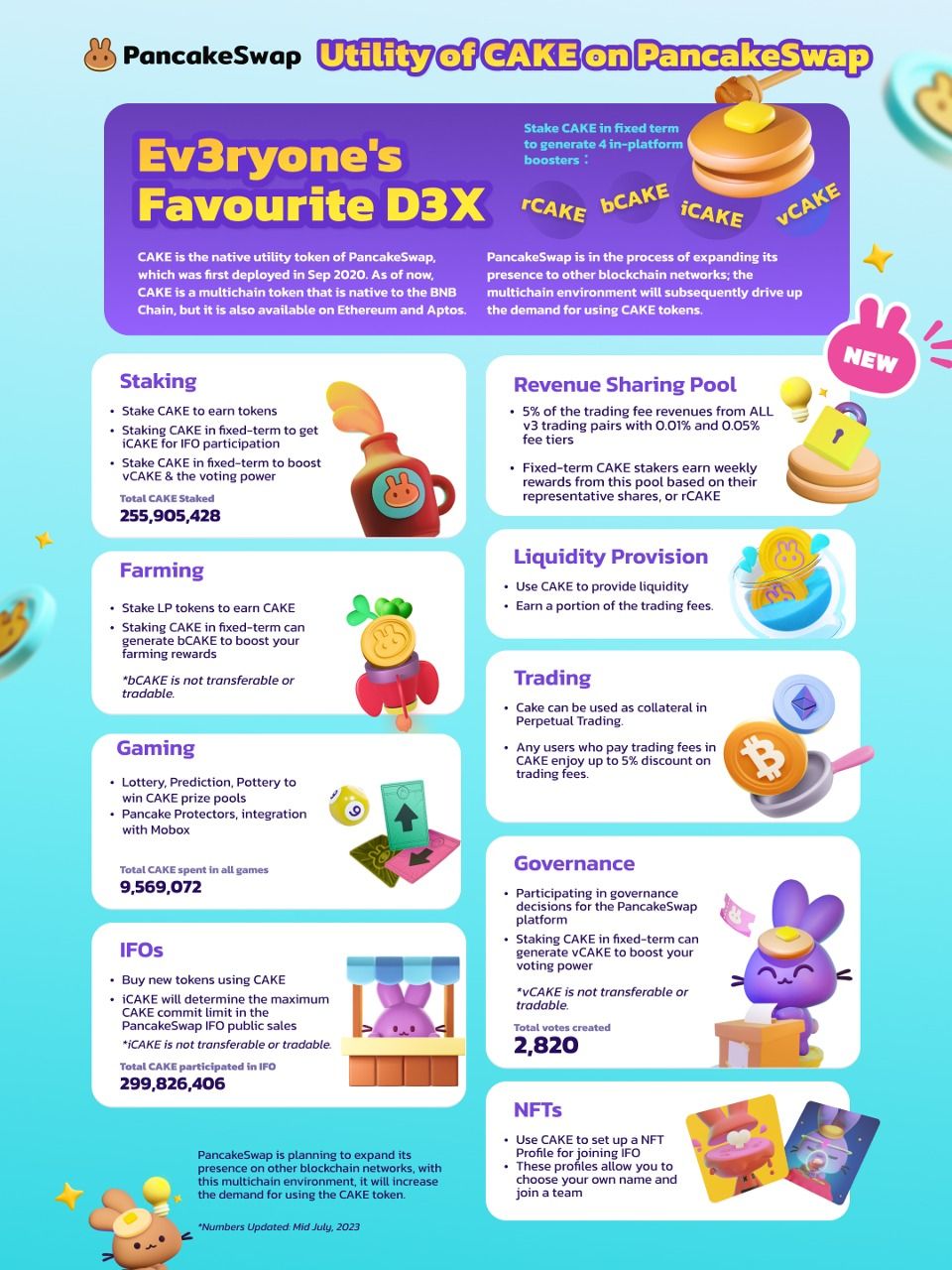 How Do I Join the Revenue Sharing Pool?
Existing CAKE stakers with fixed-term positions can update their staking positions by following the guidelines. A pop-up will guide you through the necessary steps to join the revenue sharing program.
New CAKE stakers can quickly start by staking their CAKE in a fixed-term position. Follow our step-by-step guide, and you'll be ready to share in the trading fee revenues.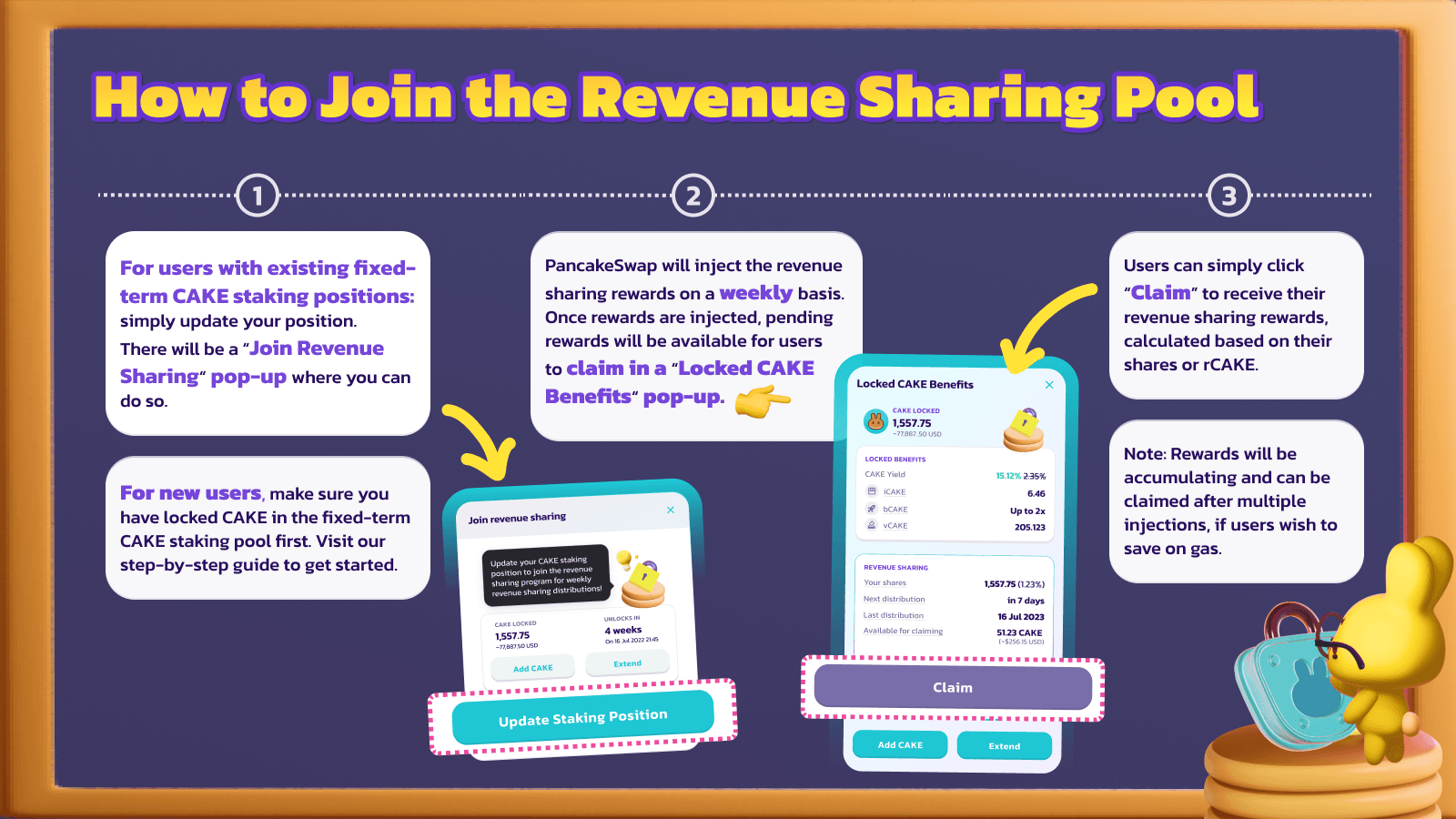 How Do I Claim My Rewards?
Claiming your rewards is effortless through our user-friendly interface on PancakeSwap - simply click "Claim" in the Locked CAKE Benefits pop-up. Your revenue sharing rewards are calculated based on your shares of rCAKE. For more information on how rCAKE is calculated, visit here for more details. Please note: rewards can be claimed even after multiple injections if users wish to save on gas.
When Are Rewards Distributed?
Rewards will be distributed weekly (7d) on approximately Wednesday at 23:59 UTC, starting with the first distribution on August 9th, 2023. Revenue sharing rewards accumulations will begin once a user passes the weekly checkpoint at 23:59 UTC every Wednesday and users receive their distributions once a full calendar week has passed. Please note: to be able to claim rewards with the first distribution period of August 9, users must join before August 2. Users who join after August 2 and before August 9 will be able to claim their rewards with the second distribution period on August 16. Users who join after August 9 and before August 16 will be able to claim their rewards with the third distribution period on August 23, and so on.
How Are the Shares (rCAKE) Calculated?
At each week's distribution, each user's share will be re-calculated based on: i) the amount of their locked CAKE ii) the remaining lock duration of their locked CAKE rounded down to weeks, and the maximum allowed lock time (52 weeks). For example, if a user has 50 CAKE locked and the remaining lock time is 10.3 weeks, then the user has 50 * (10 / 52 ) ~= 9.61 shares.
Therefore, to stay eligible and keep receiving shares, you must maintain a minimum 7 days in remaining lock time at each weeks' distribution time (23:59 UTC, Wednesday).
The more CAKE you staked and/or the longer you have in the remaining locked duration. The bigger the share you have for each of the distributions.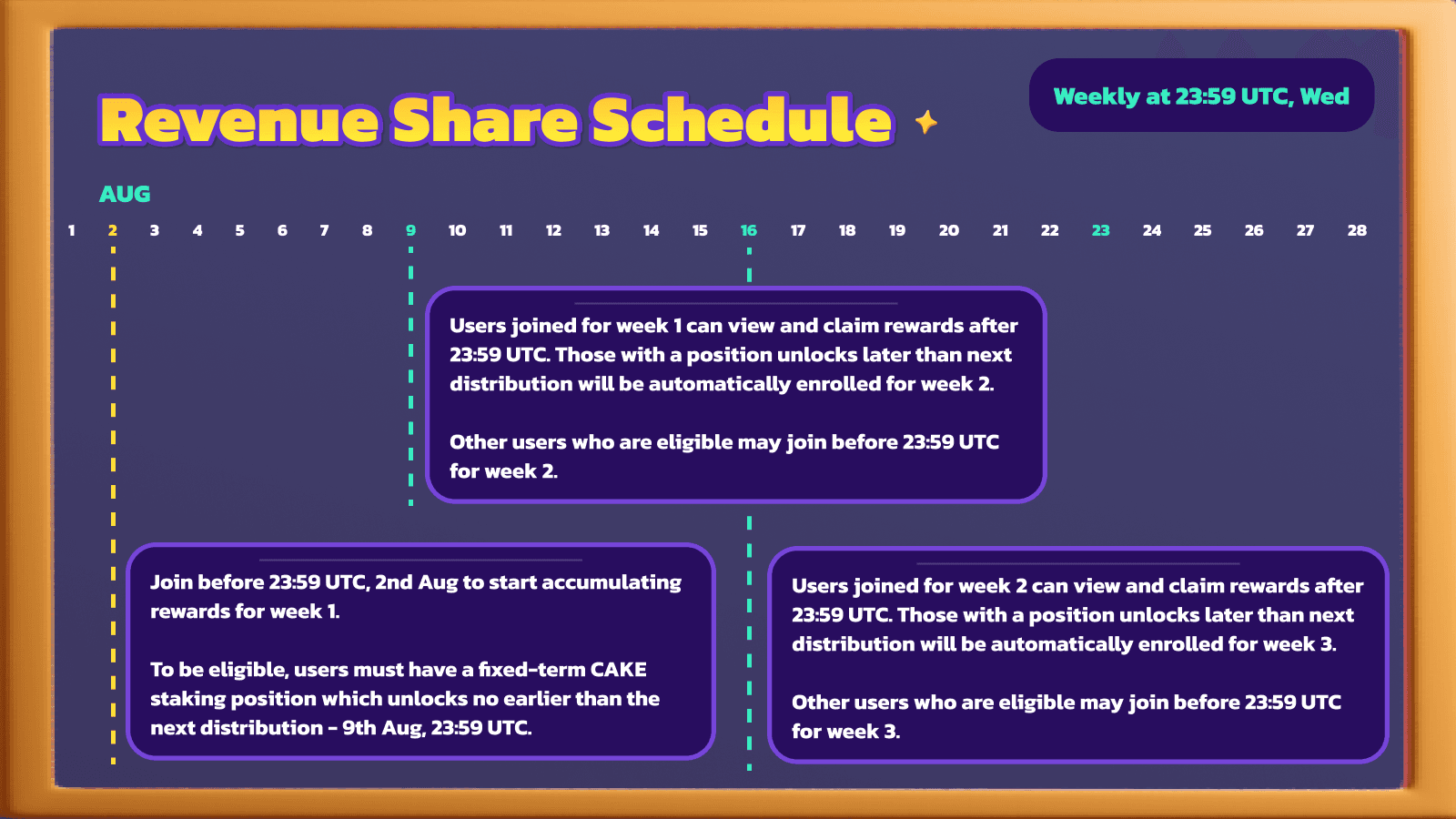 Revenue Sharing Bonus from June and July 2023
To celebrate the launch of the revenue sharing pool, during the first month of the launch in August, the kitchen will inject extra rewards from the revenue accumulated during June and July this year. Therefore, the first 4 distributions will each receive 25% of the revenue sharing rewards from June and July. Be sure to join before 23:59 UTC, 2nd Aug to enjoy the limited time, boosted reward in August.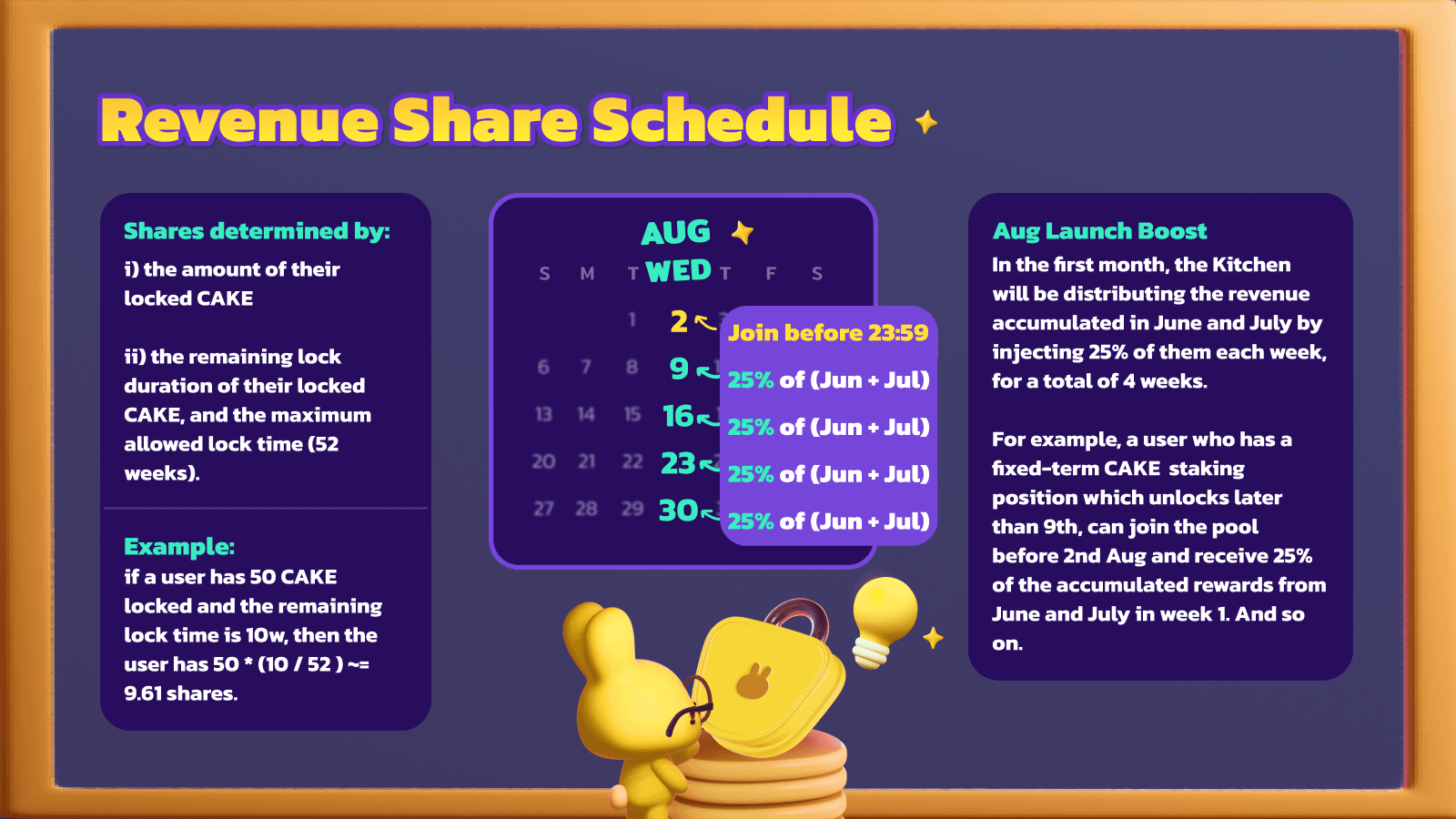 Revenue Sharing Distributions for L2 Chains
As revenue sharing distributions include trading fee revenues from ALL v3 trading pairs with 0.01% and 0.05% fee tiers, trading fee revenues from L2 chains are indeed included.
For L2 chains, the first four distributions will each consist of 25% of the accumulated fees from the point of L2 chain deployment, to the first revenue sharing distribution period for that chain.
For example, Arbitrum's "accumulated" amounts from the point deployment (Aug 10) to the first revenue share distribution period (Oct 11) will be distributed evenly in the first 4 batches.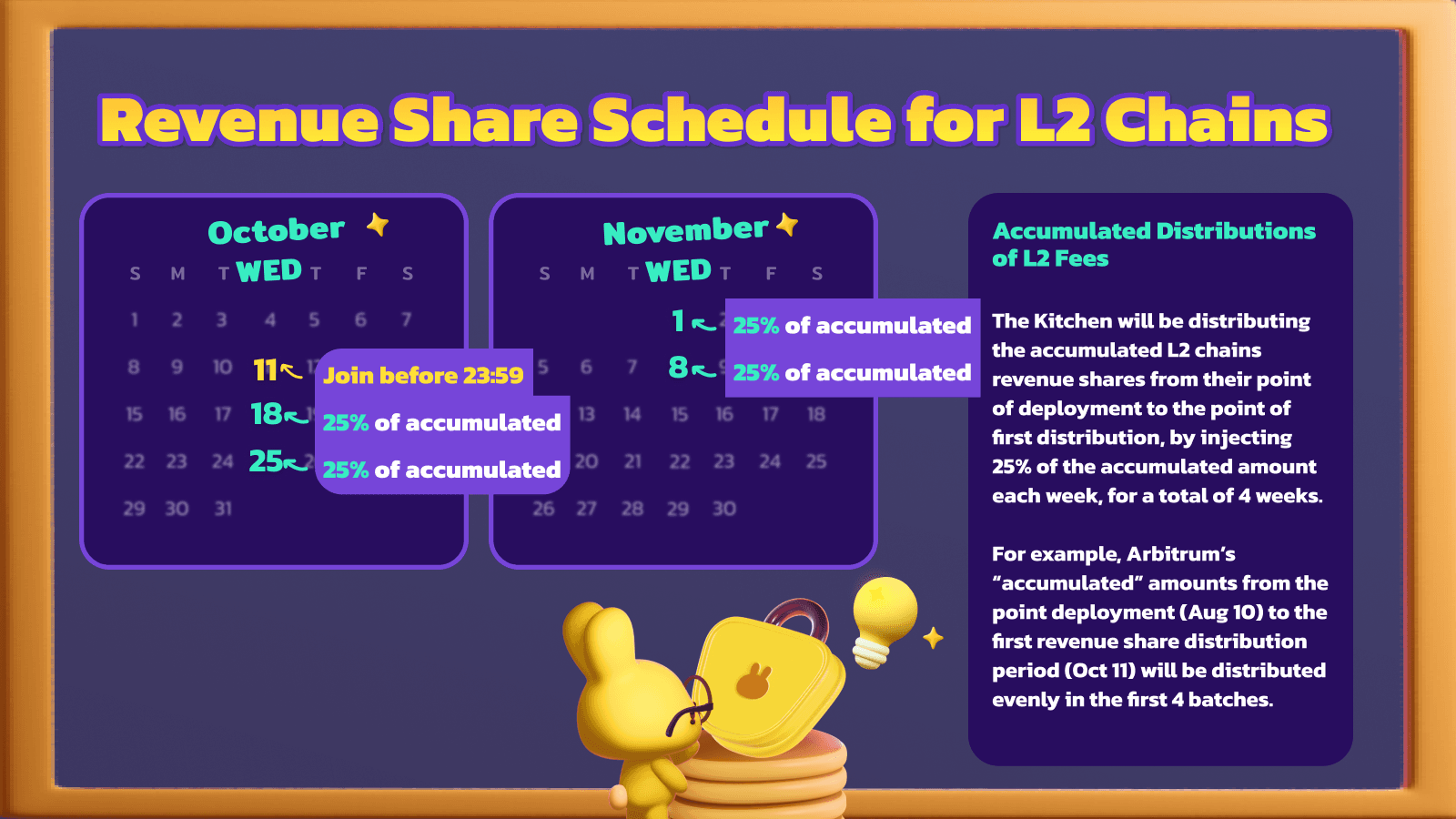 So mark your calendars and prepare to reap the benefits! If you want to receive rewards with the first distribution period on August 9, be sure to join before August 2. For more details, visit our step-by-step instructions here.
Bringing a New Sustainable and Real Yield Model for CAKE Holders
At PancakeSwap, we are committed to bringing value to our vibrant community and rewarding our loyal CAKE holders. With the introduction of the Revenue Sharing Pool and our expansion to multiple chains, we are confident that CAKE stakers will continue to enjoy increased rewards. We will embark on a rewarding journey alongside PancakeSwap's sustained growth.
Stack'em,
The Chefs