PancakeSwap Launches Liquid Staking Integration with Binance Earn – Stake ETH and Receive WBETH to Earn ETH Staking Rewards!
2023-04-28
Hey PancakeSwap Community! 🥞
Exciting news! We have partnered with Binance Earn to offer the liquid staking integration for the WBETH (Wrapped Beacon Ethereum) token! This means you can easily convert and swap ETH to WBETH. Our goal at PancakeSwap is to offer a user-friendly and innovative platform for the DeFi space. That's why we're thrilled to introduce you to all the benefits of this liquid staking integration.
But, what is Liquid Staking?
Liquid staking is a method that enables users to stake while still being able to use or trade their assets through a representative token. This provides both flexibility and access to the funds for other uses while still earning staking rewards. Since the Ethereum network has finished the Merge (i.e. the consensus mechanism of ETH has been upgraded to Proof of Stake), liquid staking offers users the option to stake their ETH to earn rewards. And, unlike traditional staking methods, users can still use and have the liquidity to their ETH while it is being staked. The WBETH token solves this problem.
So, what's WBETH?
Wrapped Beacon Ethereum (WBETH) is a liquid staking derivative token that represents staked ETH and its rewards. It's a wrapped version of BETH, created by Binance Earn, that allows users to participate in ETH staking rewards from the Ethereum network. Wrapped tokens are a way to use cryptocurrencies on blockchains other than the blockchain they were originally built on while being backed by their underlying asset.
WBETH is available for use on both Ethereum and the BNB Chain, and it offers a highly competitive 5% redemption fee on staked rewards compared to other staking providers. As one of the many ETH staking pools, WBETH is created by Binance, one of the largest cryptocurrency exchanges.
PancakeSwap's Liquid Staking Integration via WBETH
With this integration, PancakeSwap now offers the easiest and most convenient way to stake ETH. By converting your ETH directly to WBETH, you'll receive ETH staking rewards and you can also use WBETH to transfer, trade and use on other platforms.
Here are some of the benefits you'll enjoy:
1- Seamless ETH to WBETH Conversion: Convert your ETH to WBETH at zero fees directly on PancakeSwap without the need for any third-party platform. Click here to start exchanging ETH for WBETH on our platform or read our step-by-step guide below.
2- Farming Rewards: Add your WBETH and ETH tokens in our V3 liquidity pools to earn rewards and participate in the WBETH Farm.
3- Earn Staking Rewards with WBETH: Each WBETH token accrues ETH Staking rewards from the Ethereum Network daily, in accordance with the daily APR on the ETH Staking service.
4- Use your WBETH to participate in DeFi projects on the Ethereum and BNB Chain: While accruing ETH staking rewards, you can explore other DeFi use cases including swapping, lending/borrowing, yield farming, collateralization, governance, and more.
5- Swap WBETH back to ETH: With our dedicated ETH/WBETH liquidity pool, you can swap WBETH back to ETH in an instant. PancakeSwap ensures that there's always enough liquidity to facilitate fast and efficient transactions, providing a seamless trading experience for our users.
The Kitchen will work to bring more benefits from the Liquid Staking Integration to CAKE stakers and will announce it in the coming weeks and months.
Step-by-Step Guide to Convert and Swap ETH to WBETH on PancakeSwap:
Converting and swapping ETH to WBETH on PancakeSwap is a breeze. Here's how to do it:
To stake ETH and receive WBETH:
1- Head over to PancakeSwap and connect your wallet. Make sure you have ETH in your wallet on either Ethereum or BNB Chain network to convert to WBETH.
2- Navigate to the "Earn" tab and select "Liquid Staking".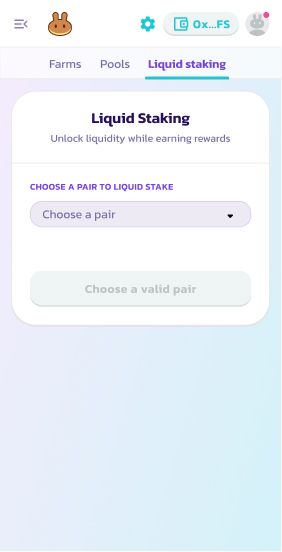 3- Confirm the stake pair chosen is ETH/WBETH and click "proceed".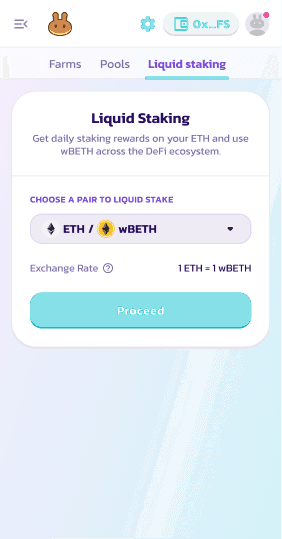 4- Enter the amount of ETH you want to convert and check the corresponding amount in WBETH. Reminder: The value of the WBETH token will appreciate with respect to ETH due to the staking rewards accrued.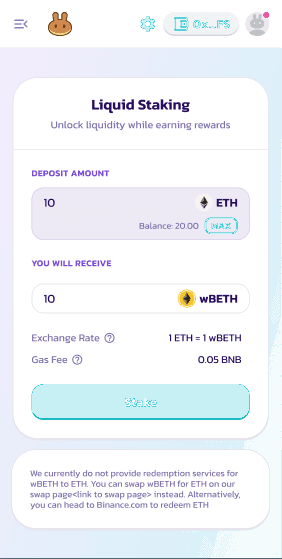 5- Click stake to enable WBETH token. Click stake again to confirm the transaction in your wallet, and voila! Your WBETH tokens will be credited to your wallet.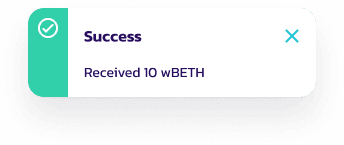 To swap WBETH to ETH:
1- Navigate to the "Trade" tab. Choose "WBETH" as the input token and "ETH" as the output token.
2- Input the amount of WBETH you want to swap and click "Swap".
3- Confirm the transaction in your wallet, and your swapped ETH will be added to your wallet balance.
To learn more about Liquid Staking Derivatives (LSD), BETH and WBETH, please visit the following pages:
We are excited to see this WBETH integration provide our users with an unparalleled DeFi experience, making it simpler than ever to stake ETH to WBETH and help users benefit from the rewards of liquid staking derivative tokens. This is just the beginning, as we have more exciting features and products related to the liquid staking integration coming soon!
The Chefs are committed to continuously enhancing the platform with innovative features and products that align with the rapidly evolving DeFi landscape.
Stay tuned for more updates on liquid staking derivatives from the kitchen and thank you for being a part of our amazing community!
Stack'em
The Chefs 🐰