Pancake Protectors is here! Discover the power of CAKE and perks for Pancake Squads and Bunnies
Product
Chef's choice
Games
2023-05-29
GM PancakeSwap Community!
We hope you had a great time during the Pancake Protectors beta week campaign! We have even more exciting news for you - the official launch has just begun! Even if you missed the beta week, you can still join the game and participate in fantastic seasonal events with rewarding experiences. Let's unveil the details of upcoming events that will make your Pancake Protectors experience extraordinary. So, without further ado, let's dive into the surprises we have in store for you!
Introducing Pancake Protectors
Pancake Protectors, powered by the PvP GameFi protocol Mobox, immerses players in thrilling missions where strategic placement of hero towers is critical. What sets this edition apart is the integration of CAKE, the native token of PancakeSwap. This integration allows players to utilize CAKE tokens within the game and earn rewards while enjoying the gameplay.
As a commander in Pancake Protectors, you will summon a diverse array of heroes to safeguard your territories throughout numerous levels. CAKE Heroes, with their outstanding attributes, help you overcome adversaries more effectively, and some of these mighty CAKE Heroes can be acquired using CAKE tokens!
Pancake Bunnies and Squads can be used to enhance your heroes' abilities. Each hero can be upgraded with only one Bunny or Squad, which can be applied via the "Heroes" section. You will be eligible to use Pancake Bunnies and Squads if you have the NFT in your wallet. Furthermore, you can seamlessly integrate your NFT into the in-game heroes and display it on your PancakeSwap profile at the same time!
Quick access to the game : https://protectors.pancakeswap.finance/
*Season 2 Update
Please be noted that season 2 will end at 03:00 UTC on June 26th, and season 3 will start at 04:00 UTC on the same day. Each season will last for a cycle of 14 days.
In addition to leveling up your CAKE Heroes, there are numerous other utilities for CAKE tokens within the game:
Utilities of CAKE in Pancake Protectors
1. Accelerating Recharge Rate and Level up progress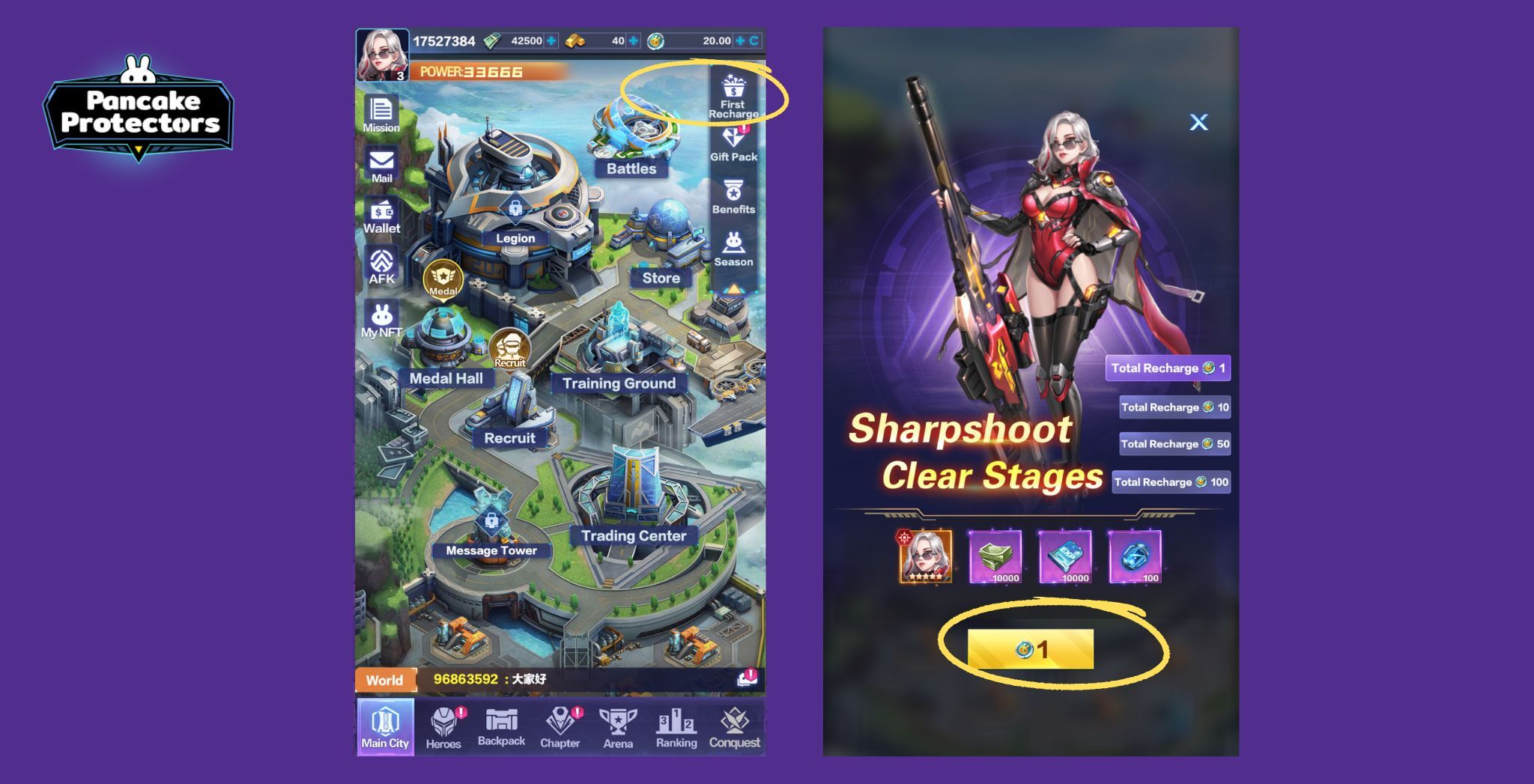 In the "First Recharge" section, you can enhance the recharge rate of certain game features. This boost in recharge rate allows you to progress faster and have a more efficient gameplay experience.You can also consume CAKE to accelerate your level up progress and yield substantial profits.
2. Claiming CAKE Heroes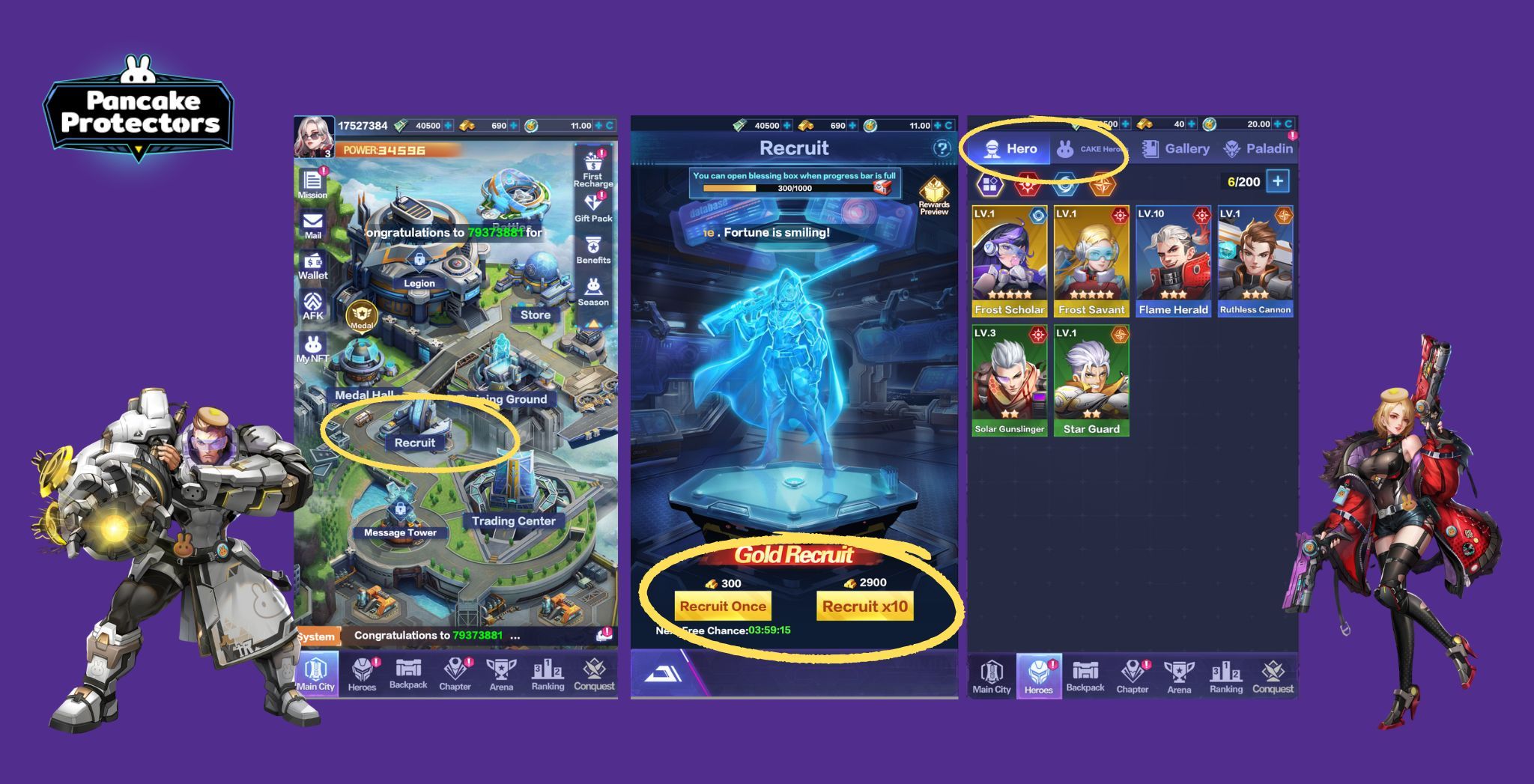 This is your guide to obtaining Heroes to defend your battles in the **"Recruit" ** section and managing your heroes in the "Heroes" section.
All heroes are divided into four factions: Sun, Storm, Star, and Light, with Light being the most powerful faction. One way for you to acquire heroes is through recruitment in the main city tab. You receive three recruitment chances for free every day, or you can acquire recruitment cards from Daily Quests, the Gold Store, the Legion Store, the Hero Store, and the Relic Store. CAKE holders can use CAKE to purchase Gold (in game currency) to recruit heroes, including top level ones - Cake Heroes!
CAKE heroes offers numerous benefits, including their tradability in the game's trading center and superior attribute values to regular heroes of the same star level. The in-game "Trading Center" functions as a hub for players to exchange items with each other. Currently, the only tradable commodity available is the CAKE hero. With an easy-to-use interface, players can seamlessly list their own CAKE heroes for sale or acquire those listed by fellow gamers.
Acquiring a CAKE hero (excluding those being traded in the center) will also yield more Hero Points than obtaining a regular hero!
3. Unlocking Level Fund, Battle Pass and Privilege Card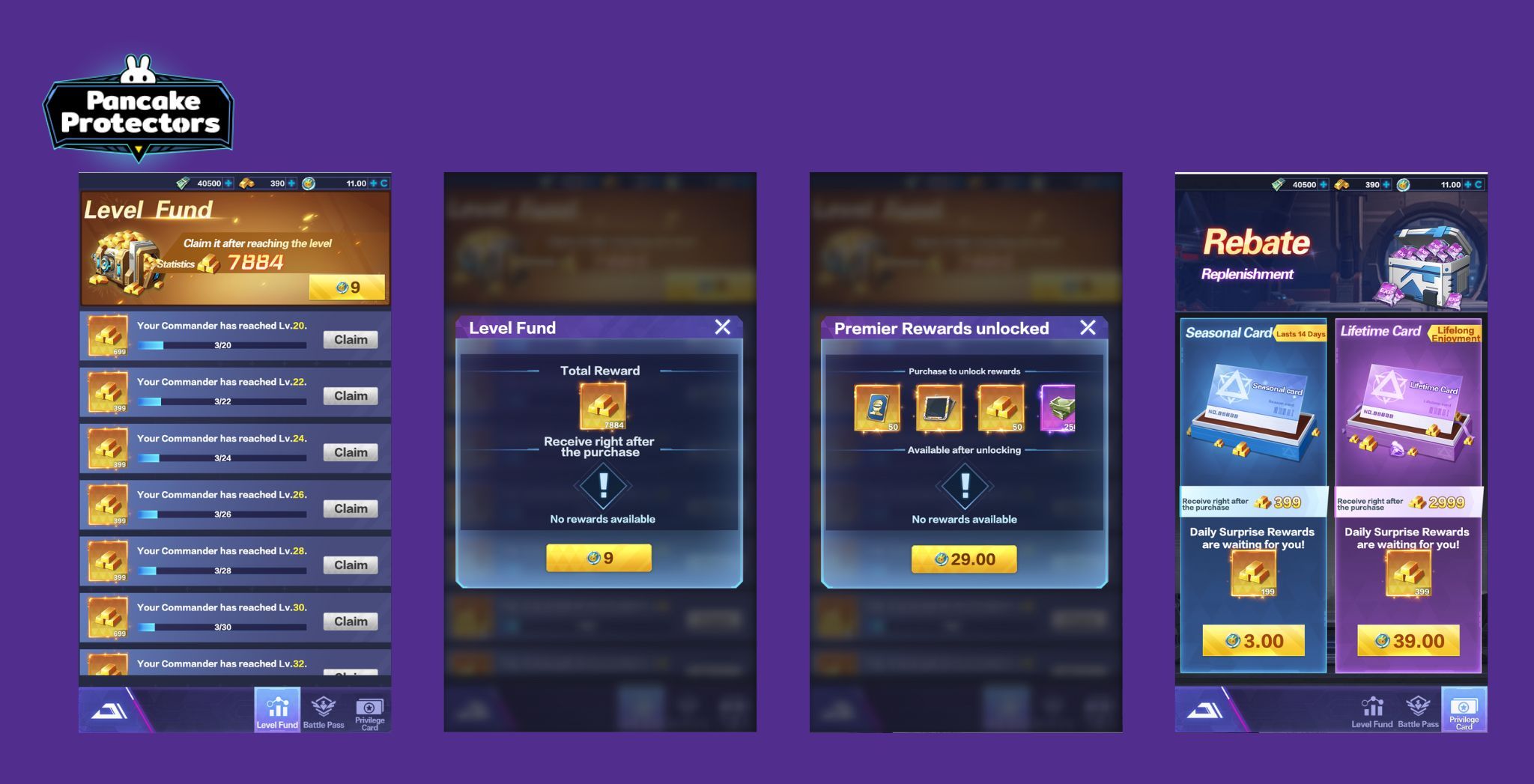 Level Fund, Battle Pass, and Privilege Card can be found in the "Benefits'' Section. Level Fund represents the amount of Gold you need to unlock for the next level, and as we mentioned, you can purchase Gold by using CAKE. The Battle Pass is a progression system that offers a tiered reward structure. By using CAKE, you can unlock various rewards as they progress through these tiers by completing in-game tasks, challenges, or earning experience points. The premium Battle Pass offers more lucrative rewards, including in-game currencies, exclusive cosmetics such as skins or avatars, consumable items, power-ups, and other valuable bonuses.
The Privilege Card is a unique membership that you can obtain using CAKE. It grants you specific privileges or bonuses, including increased experience gain, enhanced drop rates for rare items, reduced cooldown times for abilities, and access to exclusive features or areas.
4. Purchasing Gold and Gift Packs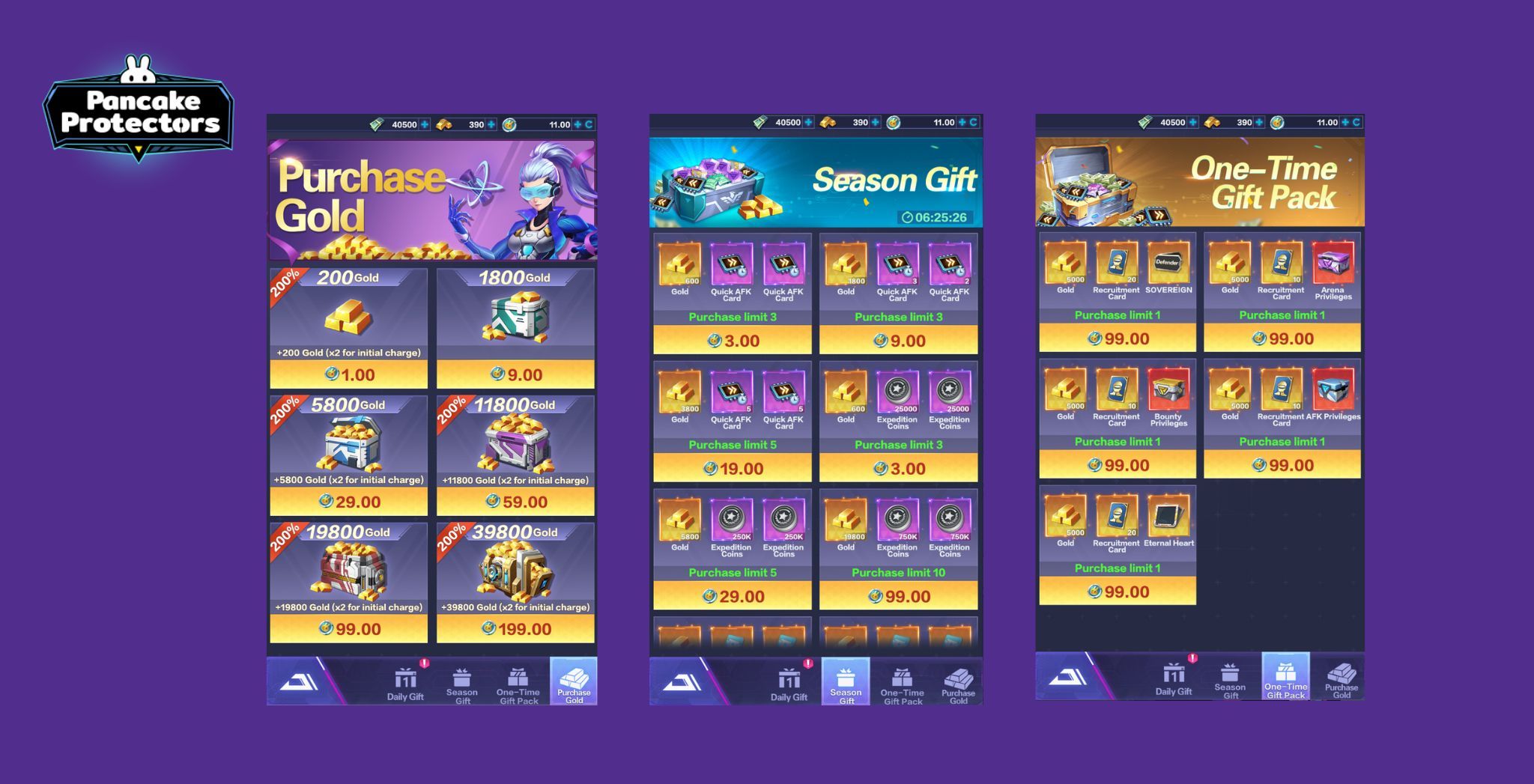 You can use CAKE to purchase in-game currency, Gold, for level-up and various purposes.Additionally , use CAKE to unbox gifts in the "Gift Pack" section, which includes options such as the Daily Gift, Season Gift and One-Time Gift Pack.
5. Staking CAKE to Earn Resource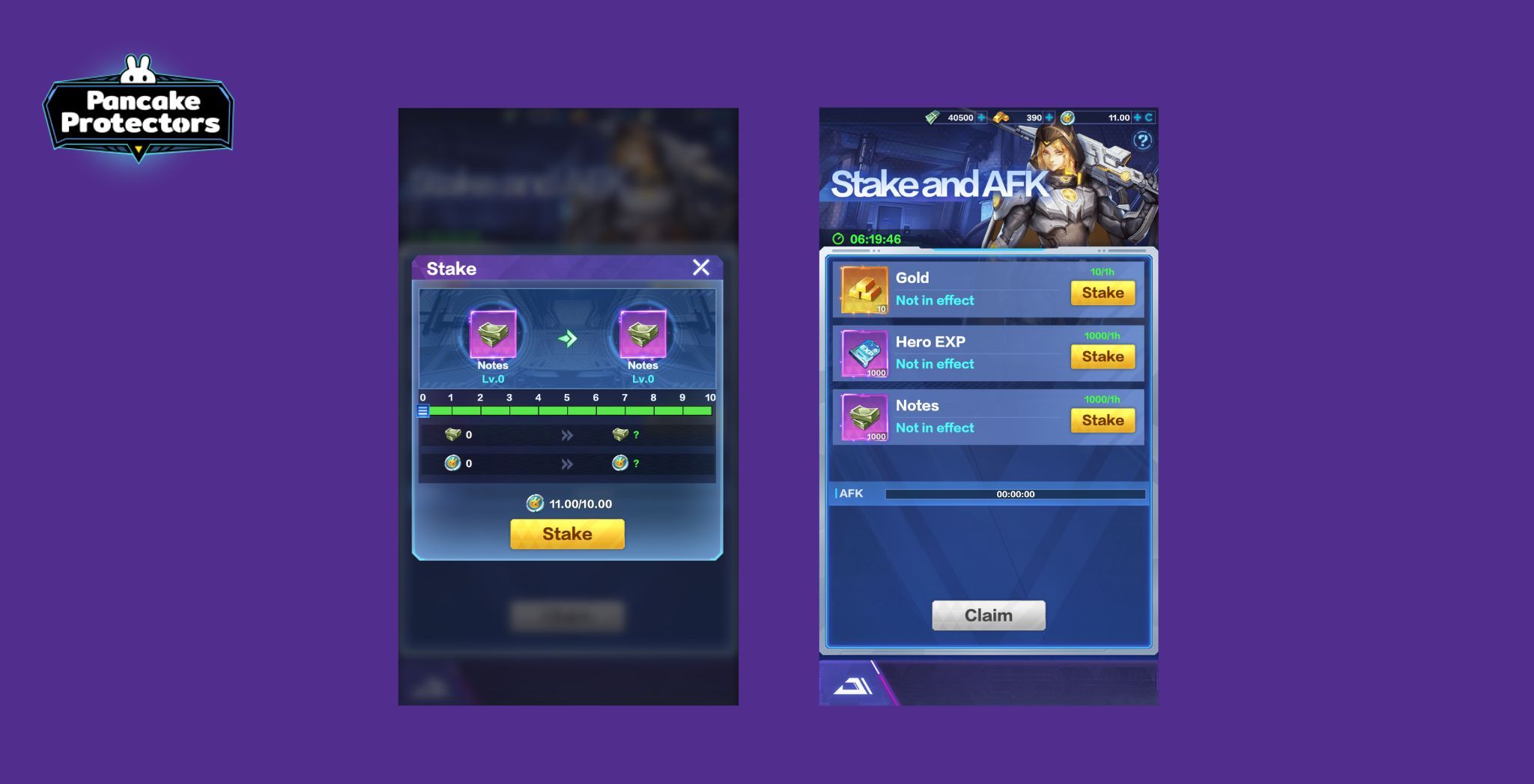 Sake your CAKE in "AFK" to earn additional resources such as Gold, HERO EXP, and Notes. There are 10 levels for staking, with each level offering increasingly advanced resources. Now, let's gear up for Seasonal Rewards!
1. Season 1 exclusive $10k CAKE rewards:
In Season 1, we have fantastic extra prizes exclusively for players in this season! Top the charts in either the Arena (Competitive Ranking Board) or the Hero Chart (Consumption Ranking Board), and the winners will be rewarded with a grand total of 10,000 CAKE! Wondering how these prizes will be distributed across the leaderboards? Let's dive into the details: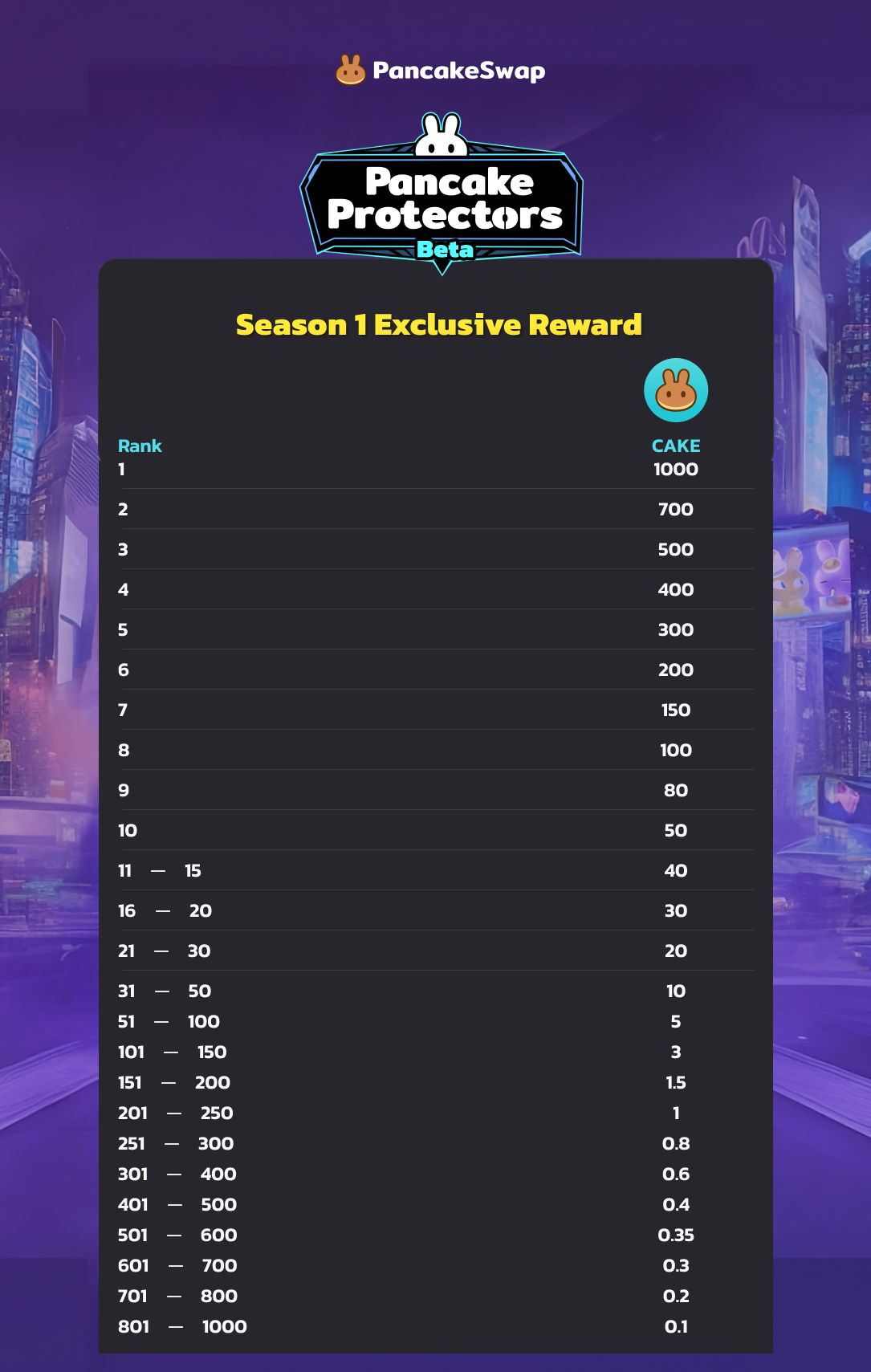 2. Seasonal Lottery
Joining the seasonal lottery involves the use of lottery tickets. Unlock lottery tickets through gameplays and activities, and you'll earn lottery tickets.
Now, what's in it for you?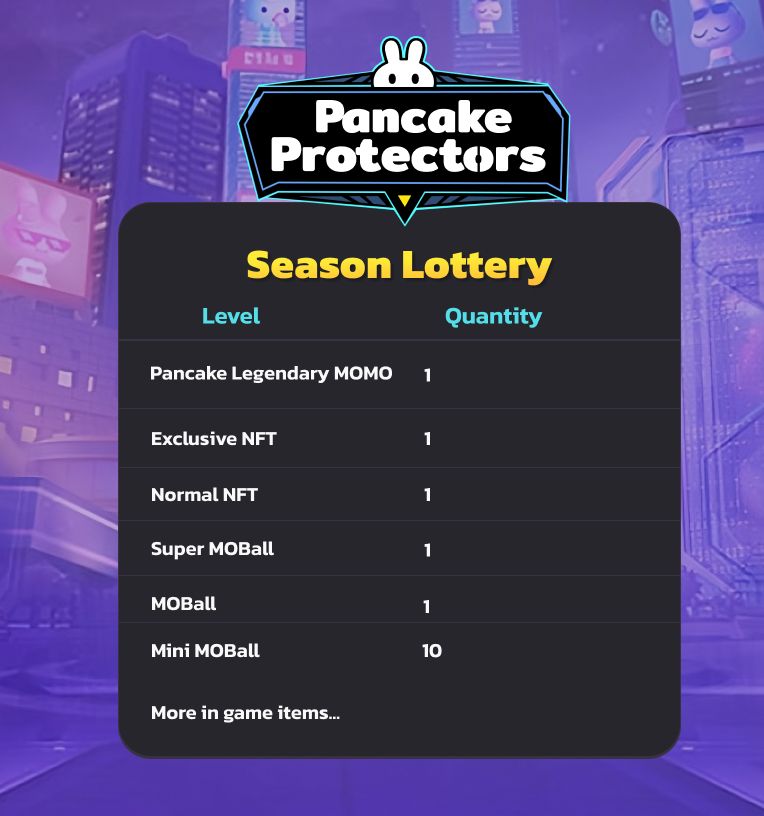 Every season in Pancake Protectors brings an exciting lottery, offering players a chance to seize extraordinary rewards. Players stand to win the Pancake Legendary MOMO, a powerful asset that equips heroes with the most powerful additional skills. Players could also get an Exclusive NFT or a Normal NFT, both of which arrive in surprise boxes and hold the power to enhance hero attributes. The rewards also feature MOBalls, including one Super MOBall, a MOBall, and ten Mini MOBalls every season. Players with advanced lottery tickets elevate their chances of claiming these fantastic rewards, making each new season a new adventure.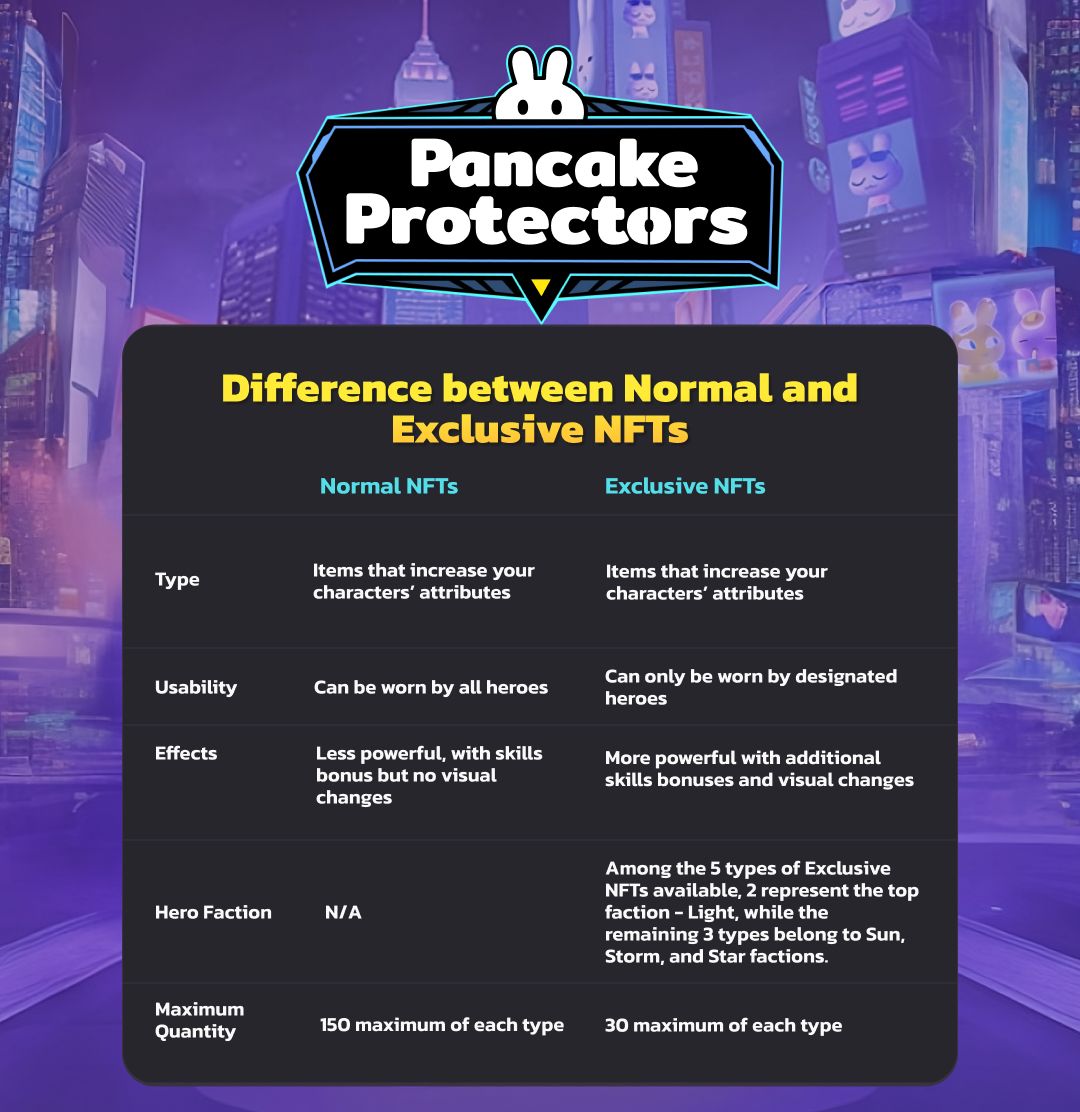 Don't miss out on the captivating tower defense gameplay, exclusive perks for PancakeSwap Bunnies and Squads holders, and fantastic seasonal rewards. Waste no time and visit: https://protectors.pancakeswap.finance/ to embark on an unforgettable journey in Pancake Protectors. If you have more questions, check out our: https://blog.pancakeswap.finance/articles/pancake-protectors-frequently-asked-questions-faq
Unite your heroes, protect your territories, and seize victory in this thrilling world of adventure!
The Chefs
Terms & Conditions
The seasonal campaign is limited to PancakeSwap users who participated in the Pancake Protectos games through the official gaming site https://protectors.pancakeswap.finance/
PancakeSwap will disqualify any entry from participants who do not meet the eligibility requirements as solely and absolutely determined by PancakeSwap and Mobox.
PancakeSwap reserves the right to cancel the Campaign or amend the Campaign mechanics or rules at any time at our sole discretion without prior notice to participants.
In case of any dispute, PancakeSwap and Mobox reserves the right to make all final decisions regarding the Campaign.
About PancakeSwap
PancakeSwap is a leading multichain decentralized exchange that operates on an automated market maker (AMM) model built on BNB Chain, Ethereum, and Aptos. Launched in 2020, PancakeSwap is one of the most popular DEXs in the cryptocurrency industry due to its low transaction fees, high-speed trading and user-friendly platform. PancakeSwap has over $438 billion in total trading volume and over $2.5 billion in total liquidity locked, making it the leading multichain DEX in the industry. For more information, visit https://pancakeswap.finance/.
About Mobox
MOBOX stands as a Gamefi protocol built on BNB Chain. By combining the best elements of yield farming and Gaming NFTs, MOBOX establishes a thriving Gamefi ecosystem. Utilizing the Binance Smart Chain (BSC), MOBOX showcases genuine NFT interoperability through seamless cross-chain and cross-platform functionality. The platform is community-driven, actively rewarding users for their engagement and enjoyment.