PancakeSwap Expands to Polygon zkEVM: A New Era of Multichain DeFi Begins
2023-06-29
Hi PancakeSwap Fam,
We are thrilled to announce that PancakeSwap v3 has officially launched on the Polygon zkEVM Mainnet Beta, providing our vibrant community with the Swap and Liquidity Provision functionalities. With powerful features inherited from the latest version of PancakeSwap, this deployment brings lower trading fees, increased fee returns for liquidity providers, and improved capital efficiency, making it the industry's most efficient and user-friendly DEX. By embracing Ethereum Layer Two (L2) technology, we unlock new opportunities and deliver exceptional user benefits. Join us in celebrating our Multichain expansion and the launch on Polygon zkEVM by participating in the exhilarating tasks of PancakeSwap's Traverse the Treasure Islands Galxe Campaign here, where you can earn loyalty points and exclusive access to celebratory NFTs.
Experience PancakeSwap on Polygon zkEVM Now
Embracing the Future of Ethereum Scaling
Polygon zkEVM is a Layer Two (L2) scaling solution for Ethereum, harnessing the power of zero-knowledge (ZK) proofs while maintaining compatibility with the Ethereum Virtual Machine (EVM). This technology enhances the functionality of Ethereum smart contracts and dApps, reducing gas costs and increasing network throughput. By seamlessly deploying existing contracts and offering lower transaction fees, Polygon zkEVM has gained substantial traction, with over $28M in TVL since its beta mainnet launch on March 27, 2023. The Polygon network is one of the most widely adopted scaling solutions within the Ethereum ecosystem, hosting over 3,000 applications, processing one billion+ transactions, serving 100 million+ unique user addresses, and securing assets worth ~$5 billion.
Introducing v3 Swap and Liquidity Provision on Polygon zkEVM
PancakeSwap v3 on Polygon zkEVM introduces Swap and Liquidity Provision functionalities, allowing users to seamlessly trade their favorite tokens and participate in liquidity provision directly on our platform. Whether you're a trader looking to swap tokens quickly or a liquidity provider seeking passive income, PancakeSwap v3 on Polygon zkEVM offers a frictionless experience.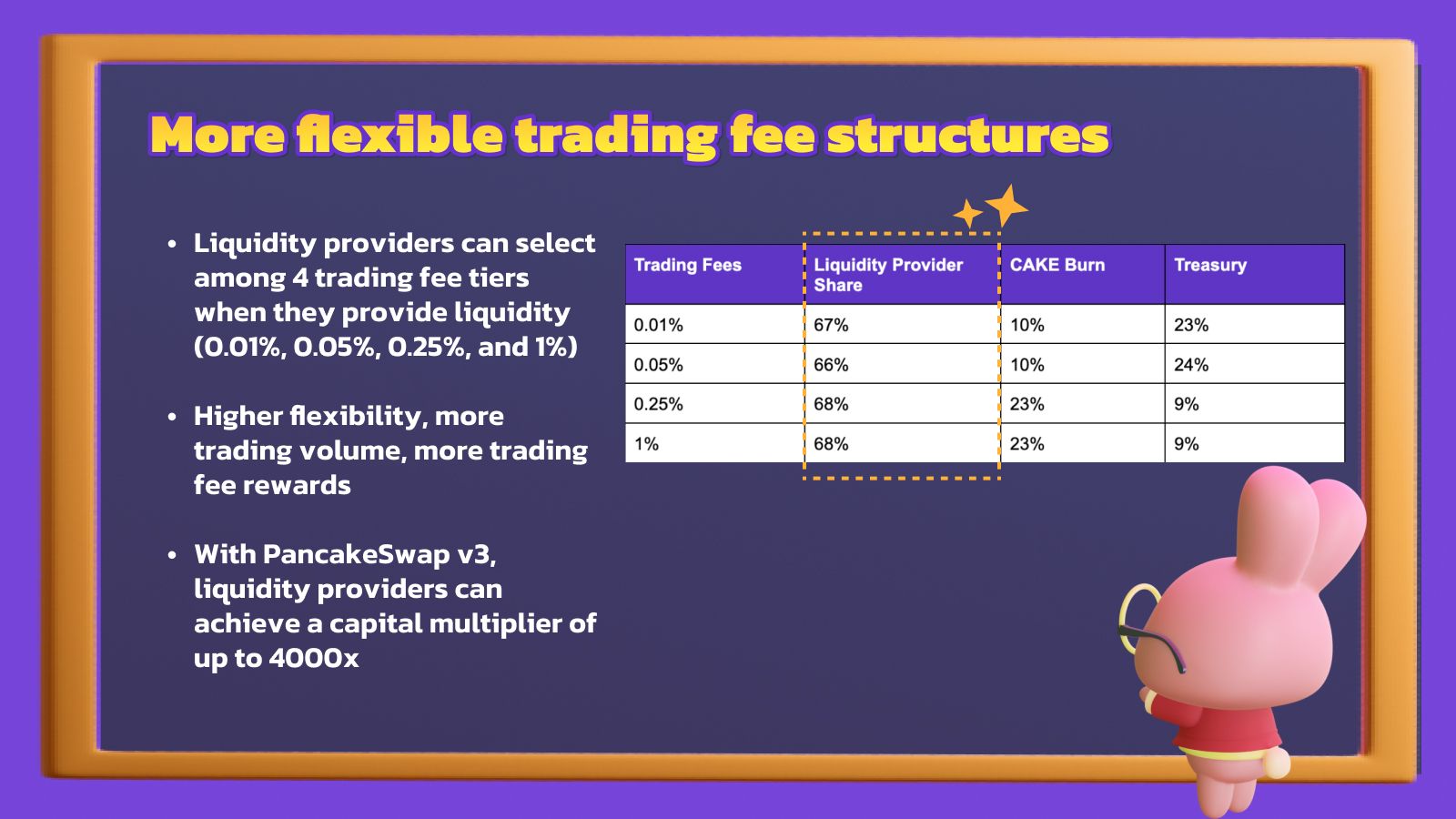 Capital efficiency is a crucial focus of PancakeSwap v3, enabling liquidity providers to concentrate their capital within specific price ranges where most trading occurs. Capital efficiency allows liquidity providers to maximize their earnings by making their assets work harder for them. With PancakeSwap v3, liquidity providers can achieve a capital multiplier of up to 4000x.
V3 Trading Fee Tiers Breakdown

Traders also benefit from PancakeSwap v3's enhanced features on Polygon zkEVM. The introduction of multi-tier fees ensures that traders enjoy the lowest trading fees in the industry. With four fee tiers ranging from 0.01% to 1%, traders can choose the fee tier that aligns best with their trading preferences and the liquidity pool they are trading in. Capital-efficient trading and lower slippage further enhance the trading experience on PancakeSwap v3.
Join PancakeSwap's "Traverse the Treasure Islands" Galxe Campaign - It Begins Now!
We are excited to introduce our Traverse the Treasure Islands Campaign on Galxe to celebrate our Multichain expansion. This campaign starts with the launch on Polygon zkEVM, where participants can engage in exhilarating tasks and pave the way for the upcoming multichain development. By participating in social media and on-chain tasks on Polygon zkEVM, users can earn loyalty points on our Galxe leaderboard, gaining exclusive access to celebratory NFTs from our Traverse the Treasure Islands Campaign. Get started here, and for complete campaign details, visit our announcement page here.
Should Polygon zkEVM distribute airdrops to PancakeSwap in the future, we are committed to spreading them among various stakeholders, such as the CAKE community, CAKE stakers, projects contributing to PancakeSwap's development, and ecosystem contributors. Currently, Polygon zkEVM has not communicated any incentives of this nature. Therefore, we encourage our users to actively participate in this ecosystem and seize the opportunity to join our Galxe campaign.
The Multichain Expansion Continues
The expansion of PancakeSwap v3 to Polygon zkEVM marks the beginning of a new era in Multichain DeFi. With seamless swapping and liquidity provision, enhanced efficiency, lower gas costs, and increased network throughput, we are bringing the power of decentralized finance to a broader audience.
As we continue solidifying our position as a leading DEX and embracing the growing demand for Layer 2 solutions, we invite builders, traders, and our vibrant community to join us on this exciting multichain journey.
Experience PancakeSwap on Polygon zkEVM Now
Stack'em
The Chefs