PancakeSwap has teamed up with Binance Earn to offer Simple Staking
2023-09-29
Hey PancakeSwap Community! 🥞
Exciting news! We have teamed up with Binance Earn to offer Simple Staking! You can easily stake popular tokens such as CAKE, USDC, USDT, and DOT and earn rewards. Our goal at PancakeSwap is to provide a one-stop DeFi platform that's user-friendly and innovative for the DeFi space. Simple Staking is a step in that direction, allowing you to earn rewards easily.
What is Simple Staking?
Instead of the usual staking in Farms and liquidity pools with pairs of assets, Simple staking allows you to earn rewards by staking a single type of asset. This simplifies the staking process for you.
Simple Staking offers a variety of popular tokens to earn rewards. As we expand this feature, you'll have more options to choose from your favorite tokens.
Benefits of Simple Staking:
1. No Impermanent Loss: Unlike AMMs, you won't face impermanent loss because you're staking only one token, not a pair.
2. Hassle-Free Staking: No need to manage different positions or move tokens around as with other yield Farming methods.
3. Daily Accrual: You'll earn rewards daily based on the APR rate, and you can claim them at the end of the staking period. The longer you commit to staking, the higher your APR.
4. APR boost with CAKE staking: Staking CAKE in our fixed-term pool will boost APR rates, increasing your Simple Staking rewards. For more information on Boosted APR, please visit the FAQ section.
Step By Step Guide to start Simple Staking
1. Select a Staking Pool - We offer 3 pools for each token, with durations of 30, 60, and 90 days. Stablecoins such as USDC or USDT are available for 30-day pools. Longer lock-ins yield higher daily rewards but come with an early withdrawal penalty.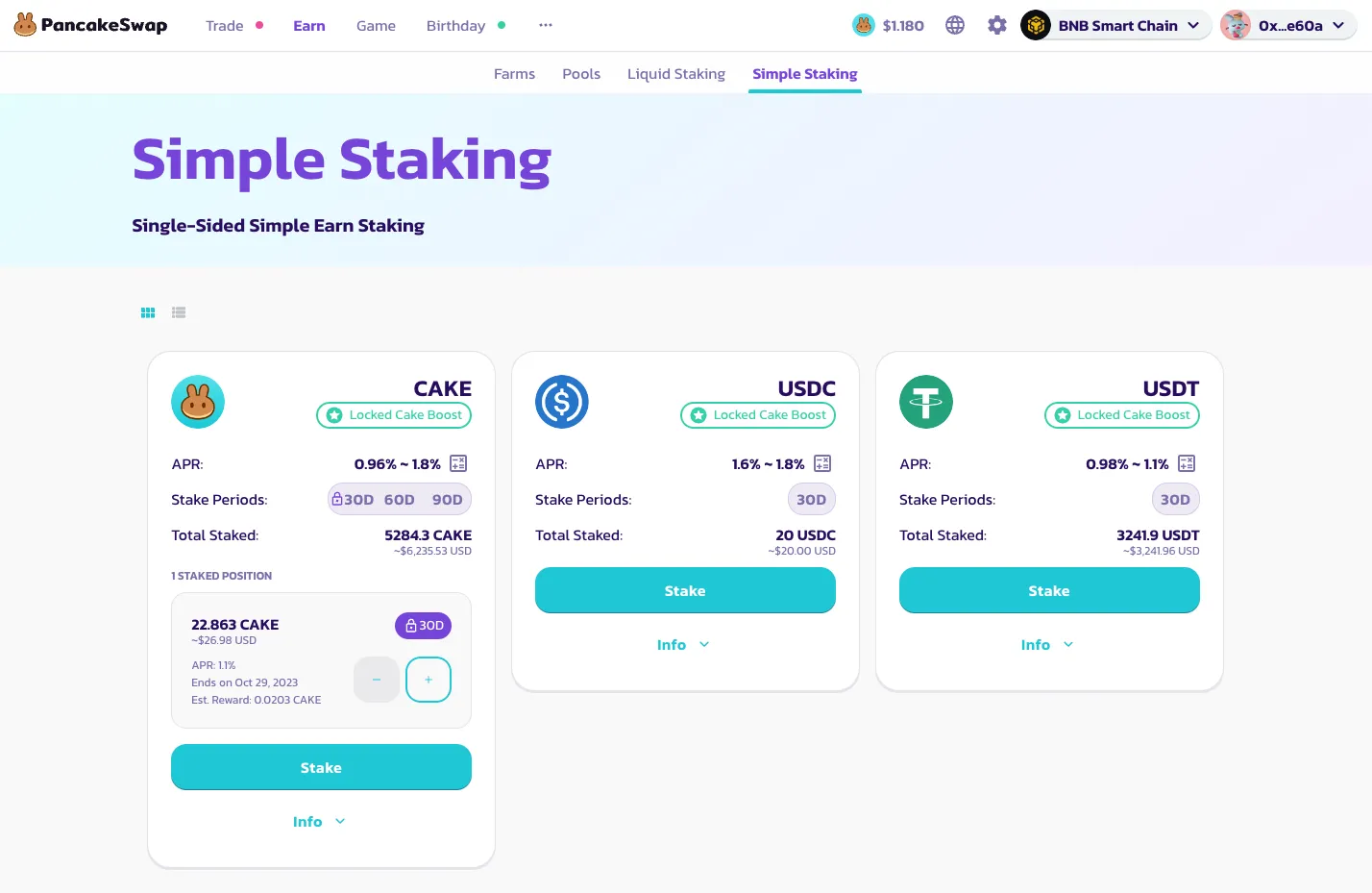 2. Deposit Tokens - Choose the amount to deposit into the staking pool, with a minimum amount depending on the token. You'll enjoy a CAKE boost if you've staked over 100 CAKE in the CAKE Syrup Pool.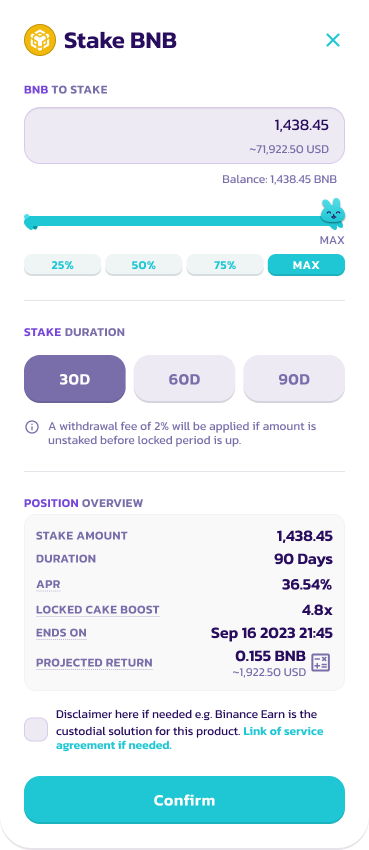 3. Confirm and Stake token - Confirm your details and stake your tokens. You'll receive a notification once your stake is successful.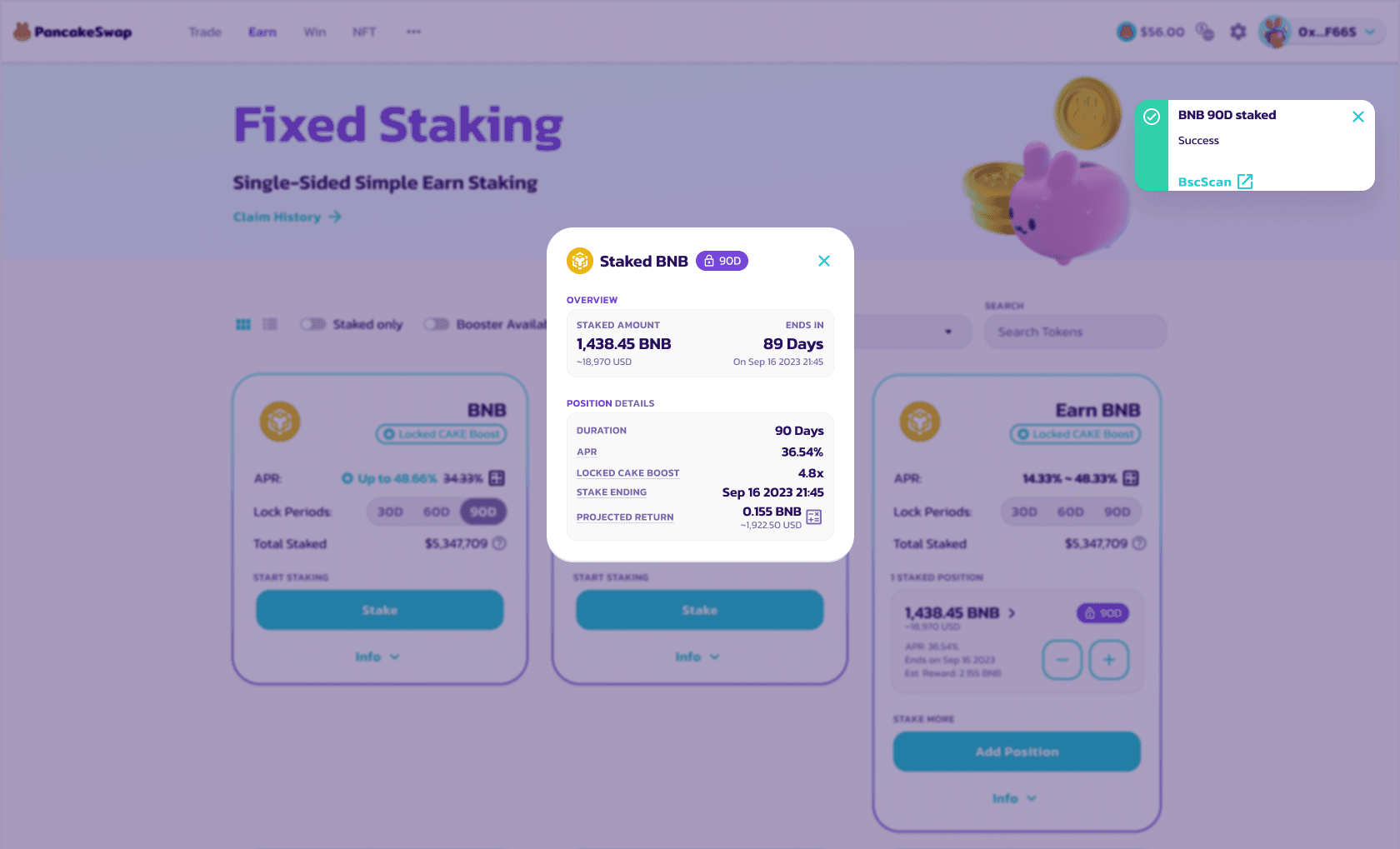 4. Earning Rewards - Daily rewards will accrue. Click the info button for more details.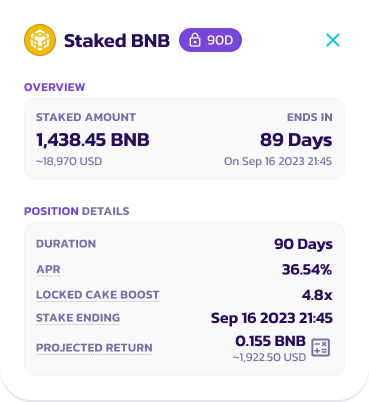 5. Claim/Restake/Unstake - When the staking period ends, you can claim rewards or unstake your tokens by clicking the "Claim" button.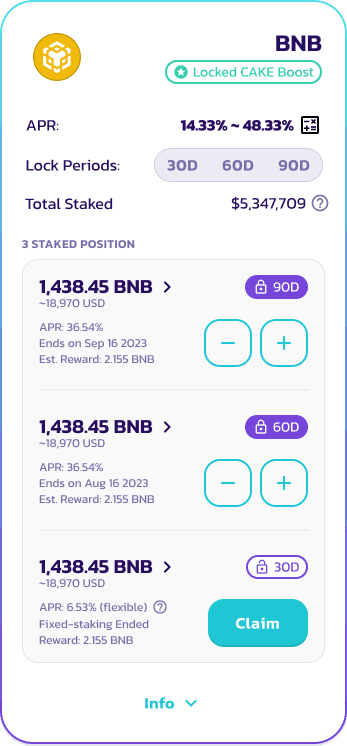 How are rewards calculated?
Your tokens will earn daily rewards based on the daily APR rate for the lock period, calculated as follows:
Rewards = Deposited Assets * APR/365 (rounded down to 8 decimal places)
The staking rewards are distributed daily from 12:00 UTC on the day after you deposit into the staking pool until the end of the staking period. For example, if a user stakes 1000 CAKE in the 90D pool on 30 Sep 2023 at 14:00 UTC, the first reward will be distributed on 1 Oct 2023 at 12:00 UTC, and the last reward will be distributed on 3 Feb 2024 at 12:00 UTC. All the daily distributed rewards can only be claimed after the end of the staking reward.
Do note that APR is subject to changes daily. The estimated rewards shown at the start of the locked staking period may differ slightly from the actual rewards generated.
What's next for Simple Staking?
We are excited to see Simple Staking making it simpler than ever to stake your crypto. We plan to expand it to more popular tokens and other chains shortly.
The Chefs are committed to continuously enhancing the platform with innovative features and products that align with the rapidly evolving DeFi landscape.
Check out the doc to learn more about PancakeSwap Simple Staking: https://docs.pancakeswap.finance/products/simple-staking/how-to-start-simple-staking
Stay tuned for more updates on Simple Staking from the kitchen, and thank you for being a part of our amazing community!
Stack'em The Chef's