PancakeSwap Joins Linea Voyage's DeFi Week as a Testnet Ecosystem Partner
2023-06-26
Dear PancakeSwap Community,
We are thrilled to announce that PancakeSwap will participate in the Linea Voyage hosted on Galxe as a testnet ecosystem partner during Linea Voyage's DeFi week. The Linea Voyage is a 9-week campaign that allows users to explore the Linea testnet, gain L2 knowledge, and contribute to testing the network. During the DeFi week of the Linea Voyage, starting on 26 June 13:00 UTC until 4 July, 03:59 UTC, users can complete tasks on PancakeSwap and the Linea testnet to earn points and unlock a collection of celebratory and commemorative Linea NFTs.
What is Linea?
Linea is a developer-friendly zkEVM rollup powered by ConsenSys. Formerly known as ConsenSys zkEVM, it is an innovative Ethereum Layer 2 scaling solution that ensures faster transaction speeds and reduced gas costs without sacrificing security. Linea uses zero-knowledge proofs with a full Ethereum Virtual Machine equivalence (learn more about zkEVM here), which allows builders to create or migrate Ethereum apps without the hassle of changing code or rewriting smart contracts. It comes with native integrations (with tools like MetaMask and Truffle) and offers flexibility and scalability for developers to build on the zkEVM. Linea was opened to the public testnet on March 28th, 2023.
How does the Voyage work?
The Linea team releases weekly challenges, including on-chain and off-chain activities, for users to learn about Linea. Users can track their contributions and points on the Galxe live leaderboard, competing for a collection of NFTs that Linea will make available at the end of the Voyage.
NFT eligibility will be based on a user's final cumulative position on the leaderboard. Top participants will have the exclusive opportunity to mint one of four unique NFTs to showcase their contributions. Additionally, if the Linea testnet crosses 30M transactions before the Voyage ends, all participants will be eligible to mint an open-edition NFT. More details about the NFTs will be shared in the upcoming weeks.
How Can I Join DeFi Week on PancakeSwap?
PancakeSwap is delighted to participate as an early testnet partner in Linea Voyage's DeFi week, starting 26 June 13:00 UTC. Users can complete tasks, each with a specific score that contributes to the points leaderboard.
To participate and earn points, users need to complete the following specific PancakeSwap tasks in the Linea Voyage on Galxe: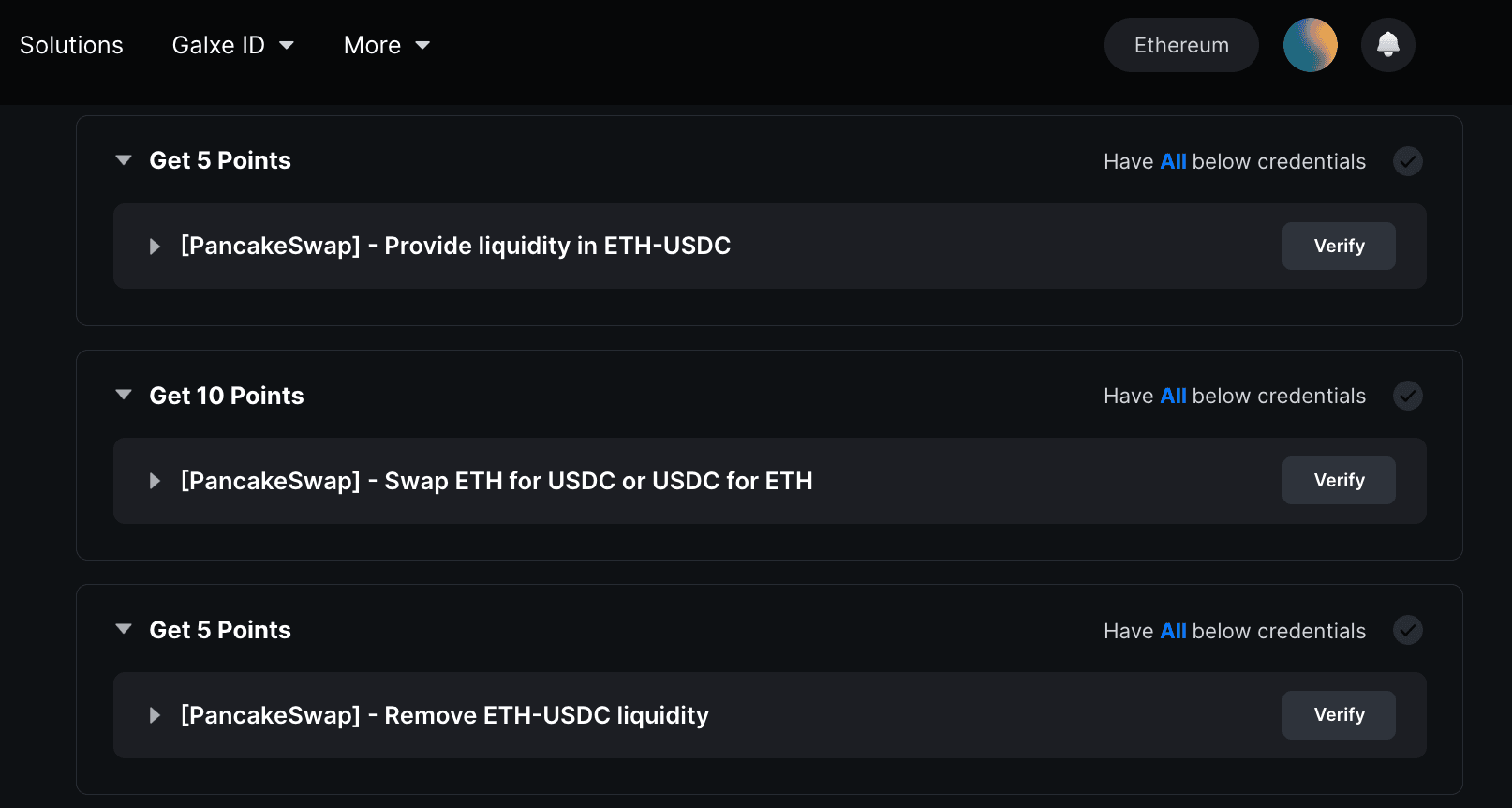 Add ETH-USDC liquidity to PancakeSwap's v3 liquidity pool on the 0.25% fee tier
Use the Swap feature to trade ETH to USDC (or vice versa) on PancakeSwap's liquidity pool
Remove ETH-USDC liquidity from PancakeSwap's v3 liquidity pool
Wait 24 hours for the action to be reflected on the Galxe page
Visit the Galxe page, connect your wallet, and claim the points for the Voyage's leaderboard.
For a detailed tutorial on how to complete the Linea Voyage tasks on PancakeSwap, please visit here.
Embracing a Shared Vision
At PancakeSwap, we share a vision with Linea to foster innovation and collaboration within the DeFi space. This partnership will create synergies that drive the development and adoption of decentralized financial solutions.
PancakeSwap is thrilled to be a testnet ecosystem partner in the Linea Voyage, and we invite users to seize the opportunity to enhance their knowledge of the Layer 2 landscape and Linea. Get ready for a captivating learning experience, and stay tuned for more details!
What are you waiting for? Join the quest now, and let's make waves together!
Stack 'em
The Chefs