PancakeSwap's DeFi Galaxy Tour: Planet 1 - Uranus Unity Rain, Showering CAKE rewards on Telegram
2023-09-19
It's a cosmic celebration like no other as PancakeSwap marks its 3rd Birthday with the PancakeSwap's DeFi Galaxy Tour. As we journey through the universe of DeFi, we're thrilled to announce a special activity as part of our 3rd planet, "Uranus Communities." It's time to unite and celebrate the incredible journey we've had together with the "Uranus Unity Rain - Showering CAKE rewards on Telegram," offering a total reward of $2,664!
Celebrating 3 Years of DeFi with Community
At PancakeSwap, our community is the beating heart of our DeFi journey. Our community's unwavering support, dedication, and passion have fueled our progress over the last three years. As we celebrate our 3rd Birthday, we want to express our gratitude and appreciation for being the pillar of our remarkable journey.
To show our appreciation, we're hosting the "Uranus Unity Rain - Showering CAKE rewards on Telegram". It's our way of saying thank you to the community that has stood by us for 3 years of Multichain journey on making it Everyone's Favorite DEX. We're giving away $2,664 in rewards through rain and giveaways on Telegram.
Campaign timeline: 19 September to 26 September 23:59 UTC 2023
How to Win:
1. Join Our PancakeSwap Telegram Group: If you haven't already, join our PancakeSwap Telegram group to participate now. Join here: https://t.me/PancakeSwap
2. Daily Random Giveaways: Our PancakeSwap English group will have daily giveaways and rains of $CAKE worth approximately $333. These giveaways will feature individual rewards that range from $0.3 to as high as $33.
3. Be active and contribute: Engage with the community by being active and participating in healthy discussions revolving around DeFi, PancakeSwap products, and more. Your valuable contributions to the group will be rewarded with rains, giveaways, or tips. Don't miss your chance to get lucky!
4. Reward Distribution and Redemption: Our Chefs will be showering the rewards, sending them your way through the @cctip_bot using various methods like rain and tips in groups. You can redeem your well-deserved rewards at any time using @cctip_bot. See the below screenshot for how to start the bot in the DM.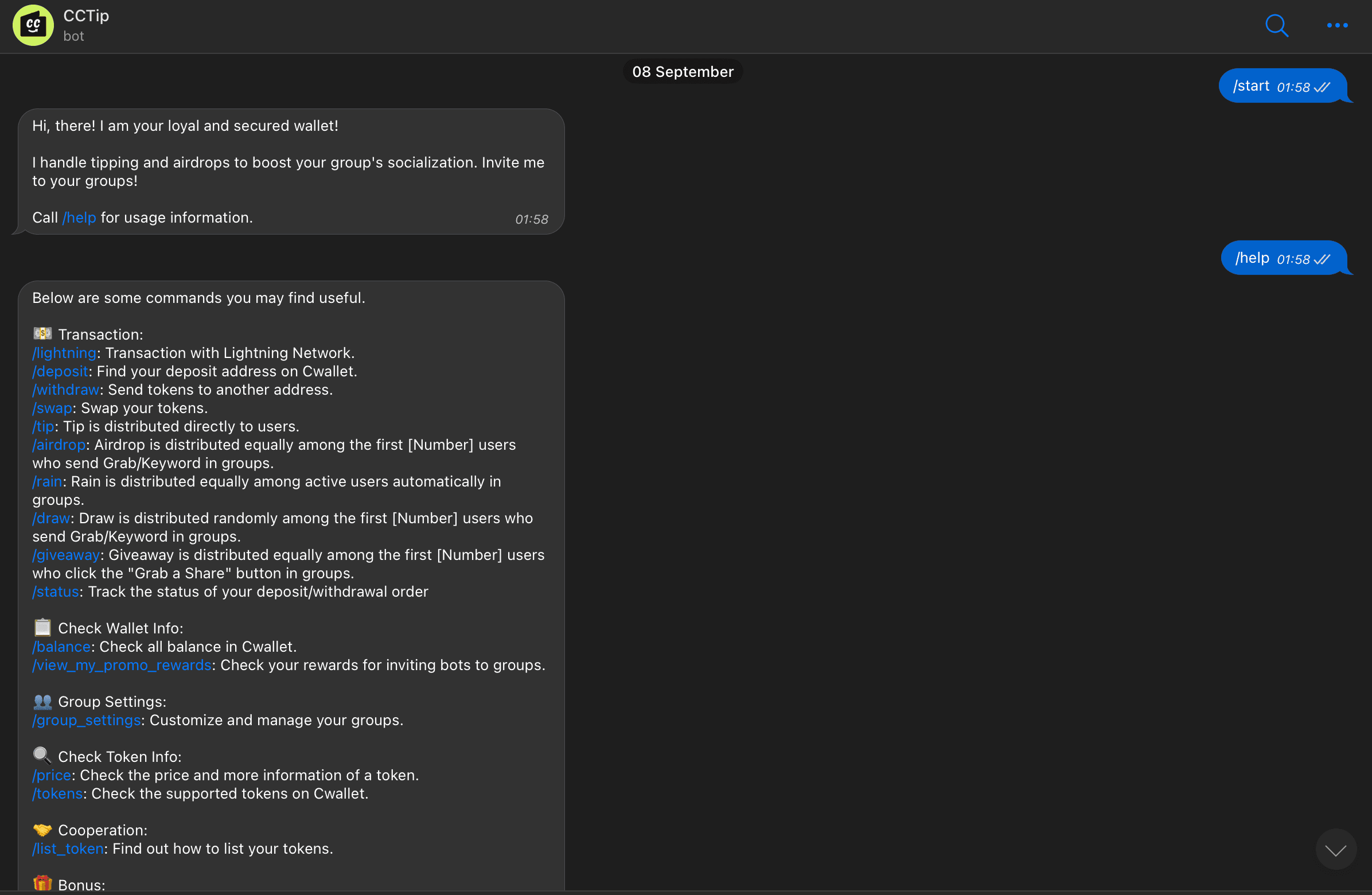 Safety tip:
Please note that we want to emphasize that PancakeSwap does not own the bot we're using for this campaign. We are only using this bot for this campaign.
Please remain vigilant against any potential impersonators or fake bots.
Please refrain from sharing your private key or phrase with any bot, regardless of the circumstances. These are your keys to your assets, and they should always remain confidential.
After the campaign concludes, we highly recommend you withdraw your rewards to your own non-custodial wallet. This extra layer ensures you have complete control over your rewards.
Join us now and be part of this incredible celebration! Let's come together as a community to mark our 3rd Birthday and the unity that has powered our 3 years of DeFi journey. Your support means the world to us, and we can't wait to celebrate with you.
🌟🥞 Spread the word, invite your friends, and let's celebrate 3 years of PancakeSwap together on Telegram! 🎈