Bringing DeFi Excellence to Arbitrum One: Experience the Ultimate User-Friendly and Low-Fee DeFi Platform
2023-08-09
GM Community,
We are thrilled to announce that we are expanding our exceptional product offerings to Arbitrum One. This exciting move allows users to experience the utmost user-friendliness and industry-lowest fees on the Arbitrum network. Join us as we embark on this journey to bring DeFi excellence to Arbitrum, empowering users with unparalleled accessibility and cost-effectiveness as we unveil the Swap and Liquidity Provision functionalities and the upcoming Farms and IFO features on this cutting-edge platform.
Why Arbitrum One?
1. Unmatched User-Friendliness: At PancakeSwap, we prioritize creating a user-friendly environment for all DeFi enthusiasts. Arbitrum One aligns perfectly with our vision, providing a seamless and intuitive experience catering to novice and experienced users. By migrating to Arbitrum One, we aim to ensure a smoother and more user-friendly DeFi journey for everyone.
2. Scalability and Efficiency: We unlock scalability and efficiency by integrating PancakeSwap with Arbitrum One. Arbitrum's Layer 2 technology ensures lightning-fast transaction speeds while significantly reducing gas fees, creating an optimal environment for seamless trading experiences.
3. Mass Adoption Potential: Our decision to launch on Arbitrum One reflects our commitment to driving mass adoption of DeFi. With its scalability and cost-effectiveness, we aim to attract a wider audience to PancakeSwap and facilitate broader participation in the DeFi ecosystem.
PancakeSwap v3 Features on Arbitrum One
1. Seamless Swap: Trade with Ease
Our intuitive user interface ensures quick and cost-effective token swaps on PancakeSwap v3. With a multi-tier fee structure ranging from 0.01% to 1%, you can choose the fee that aligns with your preferences and selected liquidity pools. Enjoy reduced slippage and enhanced liquidity while trading your favorite Abritum tokens seamlessly.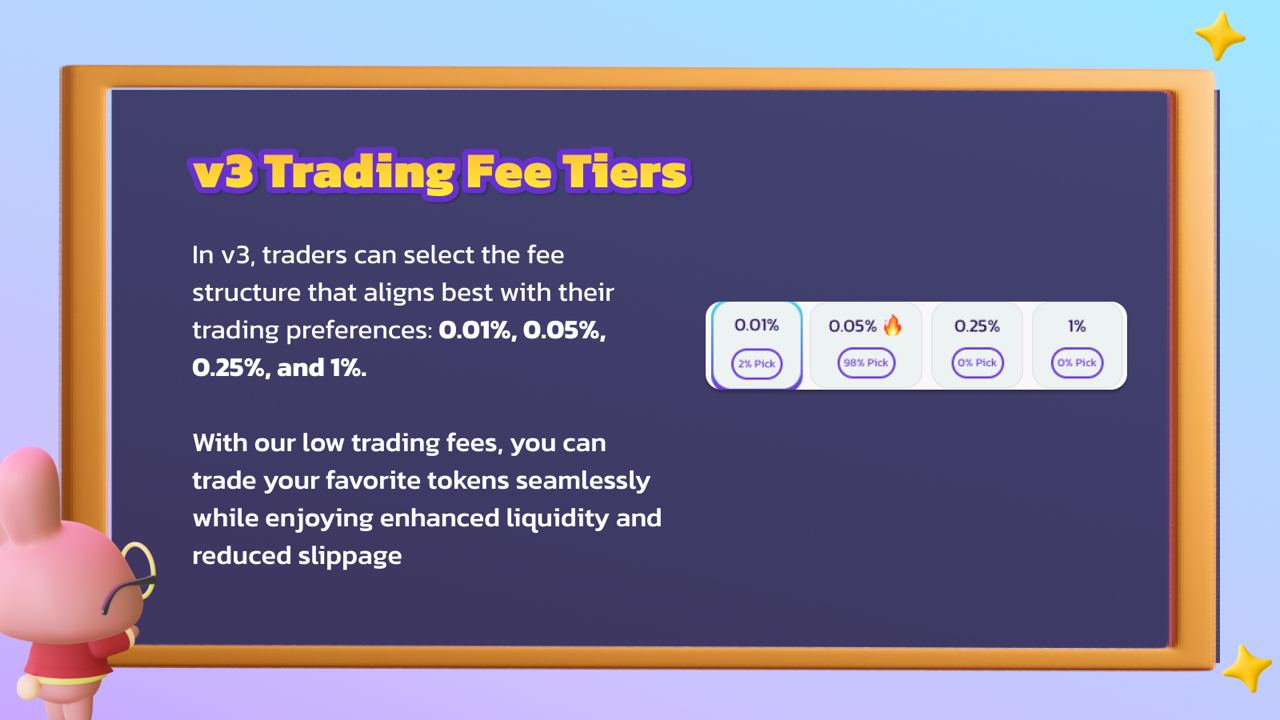 2. Liquidity Provision: Amplify Your Earnings
Become a liquidity provider on PancakeSwap v3 and integral to our decentralized exchange ecosystem. By supplying liquidity, you earn rewards from trading fees whenever users utilize your liquidity pool for swaps. It's an opportunity to passively grow your income while contributing to the platform's growth. With the scalability of Arbitrum One, maximize your returns with an impressive capital multiplier of up to 4000x.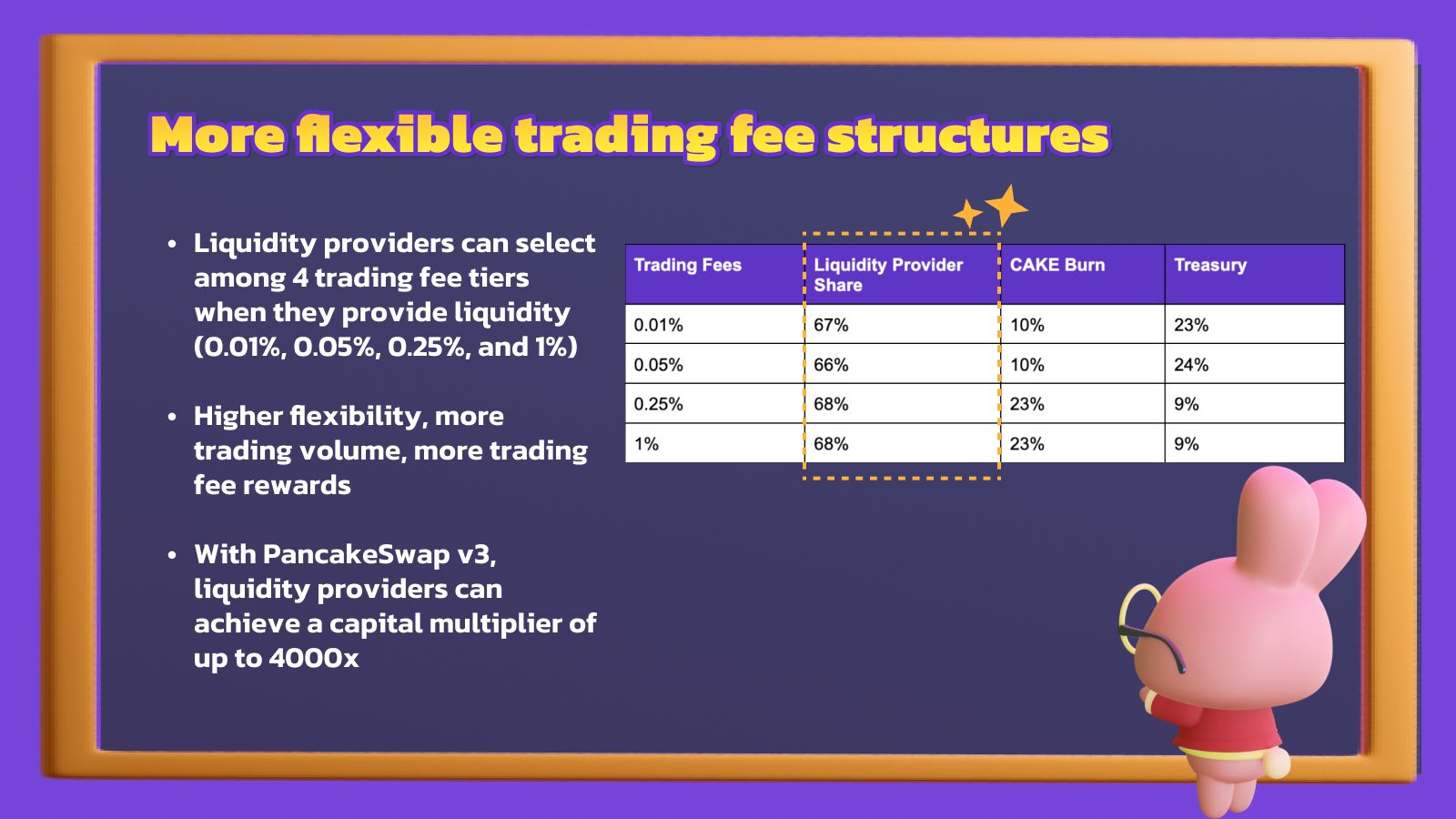 3. Yield Farming: Unlock Boundless Opportunities (Coming Soon)
Stay tuned for the official launch of Farms on Arbitrum One PancakeSwap, arriving in the coming weeks. Stake your LP tokens and earn CAKE rewards to enhance your crypto holdings. Farms enable you to earn CAKE while maintaining a position in your LP tokens, presenting exciting growth opportunities.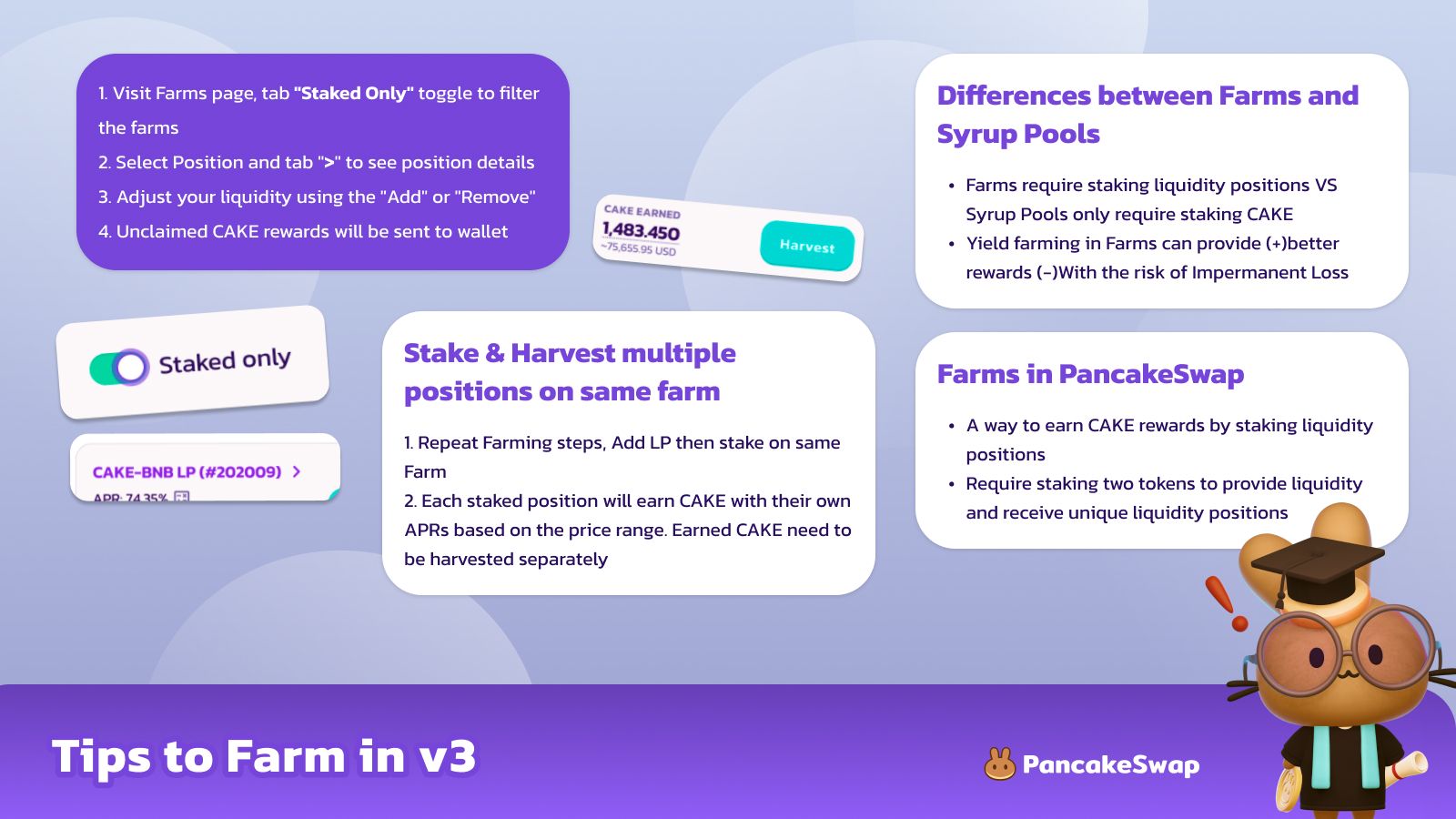 4. IFO: Initial Farm Offering (Coming Soon)
An IFO on PancakeSwap is an Initial Farm Offering. IFOs let you get early access to PancakeSwap's new tokens as soon as they are added. Discover and participate in thrilling token offerings, securing early investment opportunities and potential rewards. Stay updated for further details and announcements as we unveil this exciting addition.
Participate in the "Traverse the Treasure Island" Campaign on Arbitrum One PancakeSwap
As we launch PancakeSwap v3 on Arbitrum One, we invite you to engage in the "Traverse the Treasure Islands" Galxe campaign. Participate in Swap, Liquidity Provision, and social media tasks to earn loyalty points and unlock exclusive NFTs. Join us in exploring the possibilities and reaping the rewards on the Arbitrum One network.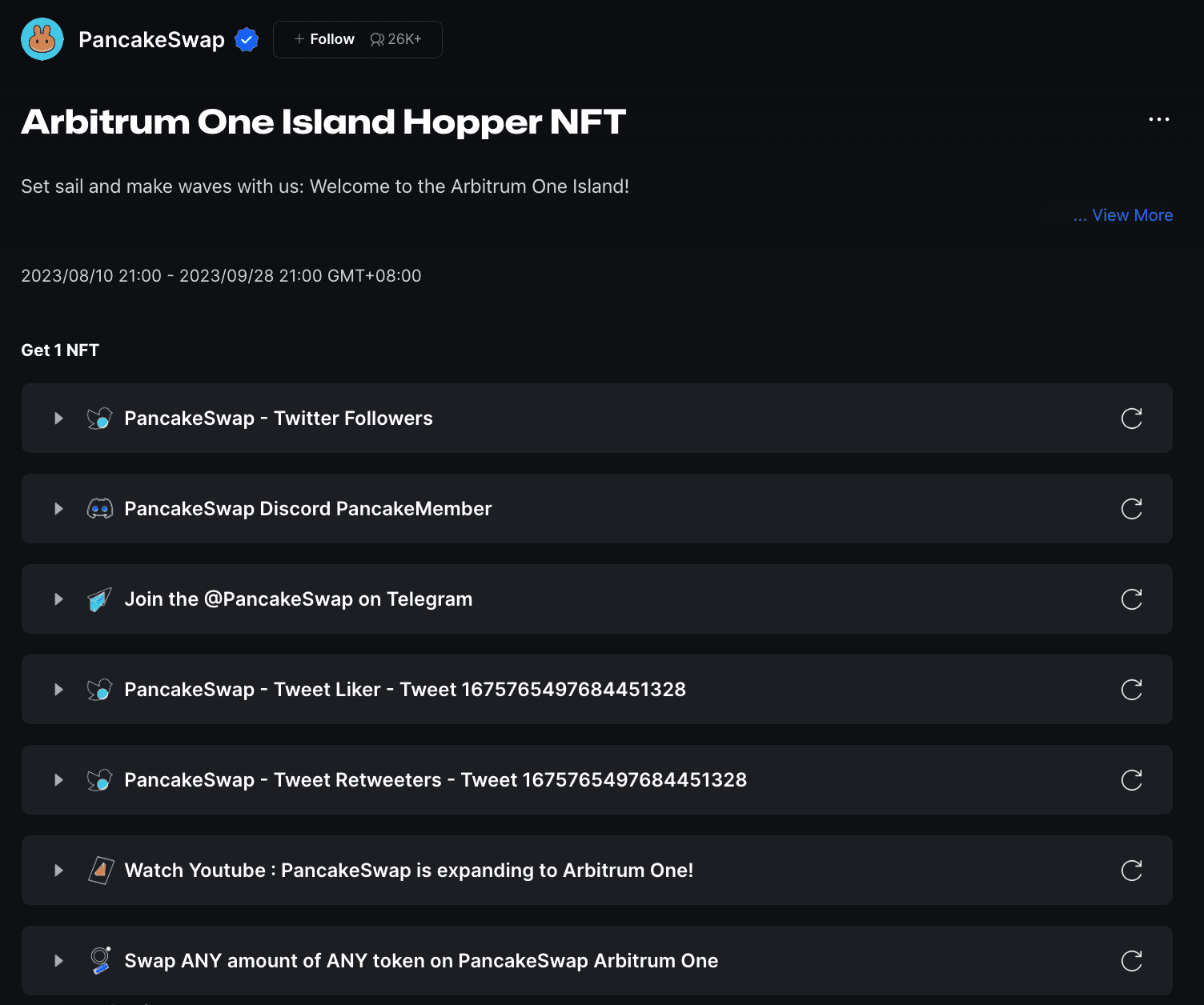 Please note that if Arbitrum One provides any incentives, we will distribute them among various stakeholders, including the CAKE community, CAKE stakers, projects contributing to PancakeSwap's development, and ecosystem contributors. However, Arbitrum One has yet to communicate any incentives at this point. We encourage our users to actively participate in the Arbitrum One ecosystem and take full advantage of the "Traverse the Treasure Islands" Galxe campaign.
Join us in this new chapter as we bring DeFi excellence to Arbitrum One. We will drive mass adoption, empower users, and foster a vibrant and inclusive DeFi community. Stay tuned for further updates and announcements as we prepare for the official launch of Farms and IFOs on Arbitrum One PancakeSwap. Let's embark on this journey to revolutionize DeFi and make it accessible to all, with PancakeSwap leading the way.
Stack 'em,
The Chefs