Introducing PancakeSwap v3 on opBNB: Unlocking a New Era of Low Fees and Lightning-Fast Transactions on the Optimized Layer-2 Solution
Product
Community
Chef's choice
2023-09-27
GM Community,
Today, we're excited to announce that PancakeSwap v3 is deployed on opBNB, opening doors to a new era of enhanced features and opportunities. We're bringing together two powerhouses to create an unmatched user experience. PancakeSwap's deployment on opBNB aligns perfectly with our mission of offering a truly user-friendly, low-fee, and high transaction speed multichain DEX for the DeFi community. Say goodbye to the hurdles of high transaction volumes on Layer 1 chains.
What is opBNB?
opBNB, powered by the bedrock version of Optimism's OP Stack, is a high-performance layer-2 solution within the BNB Chain ecosystem. Its block size of 100M ensures stable and cost-effective gas fees, making it an ideal choice for a wide range of digital environments. From gaming and decentralized exchanges to daily transactions and digital collectibles, opBNB caters to diverse needs while delivering exceptional performance.
Why is PancakeSwap deploying on opBNB?
Large-scale Web3 applications face challenges on Layer 1 chains due to high transaction volumes. PancakeSwap on opBNB offers a scalable solution; the opBNB network accommodates over 4,000 TPS and reduces gas fees to under $0.005 for transfers. Users enjoy improved throughput without sacrificing decentralization by offloading processing to Layer 2 while posting data to the BNB Smart Chain.
Explore PancakeSwap's Enhanced Features on opBNB
1. Swap with Low Fees: Enjoy the freedom to swap BNB Chain tokens with fees as low as 0.01%. Our multi-tier fee structure, ranging from 0.01% to 1%, caters to your preferences and chosen liquidity pools. Dive into a world of reduced slippage and increased liquidity while seamlessly trading your favorite BNB Chain tokens.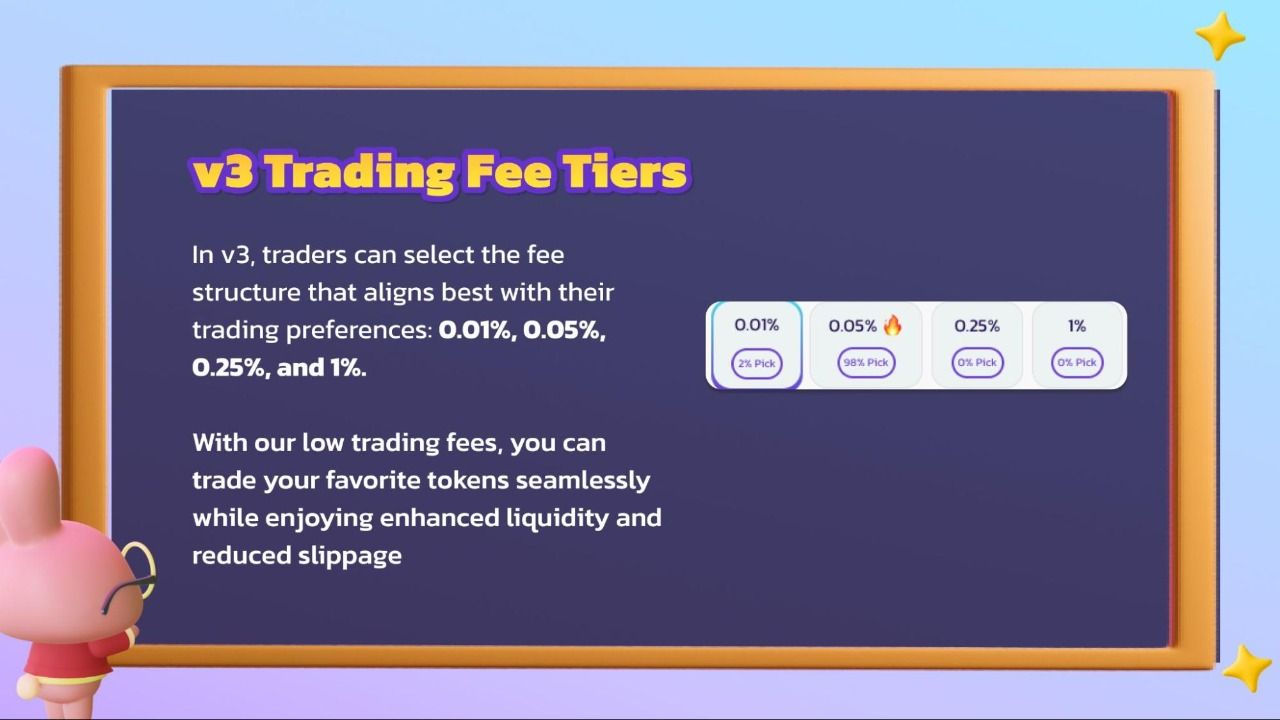 2. Liquidity Provision: Become a vital part of BNB Chain's thriving ecosystem by participating in liquidity pools. As a liquidity provider, you contribute to the platform's growth and earn rewards from trading fees. Experience passive income growth with enhanced scalability, offering up to a 4000x capital multiplier compared to v2.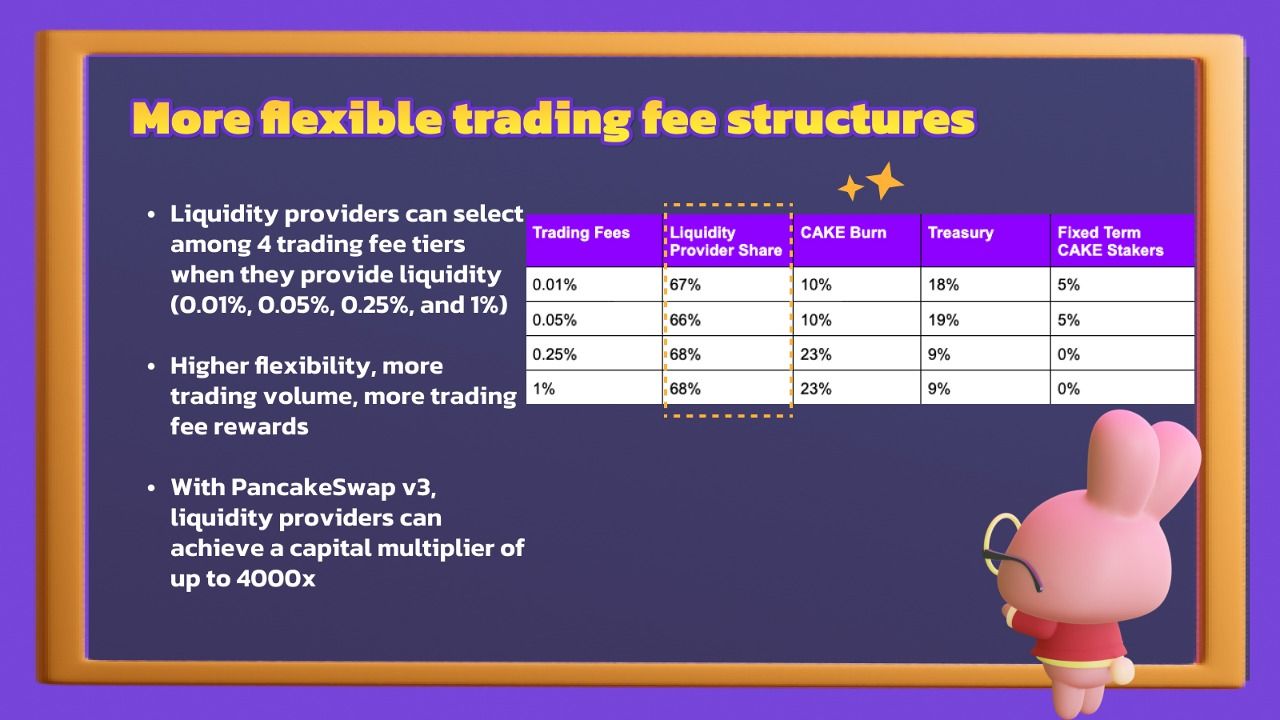 Traverse the Treasure Island: Unveiling the 6th Island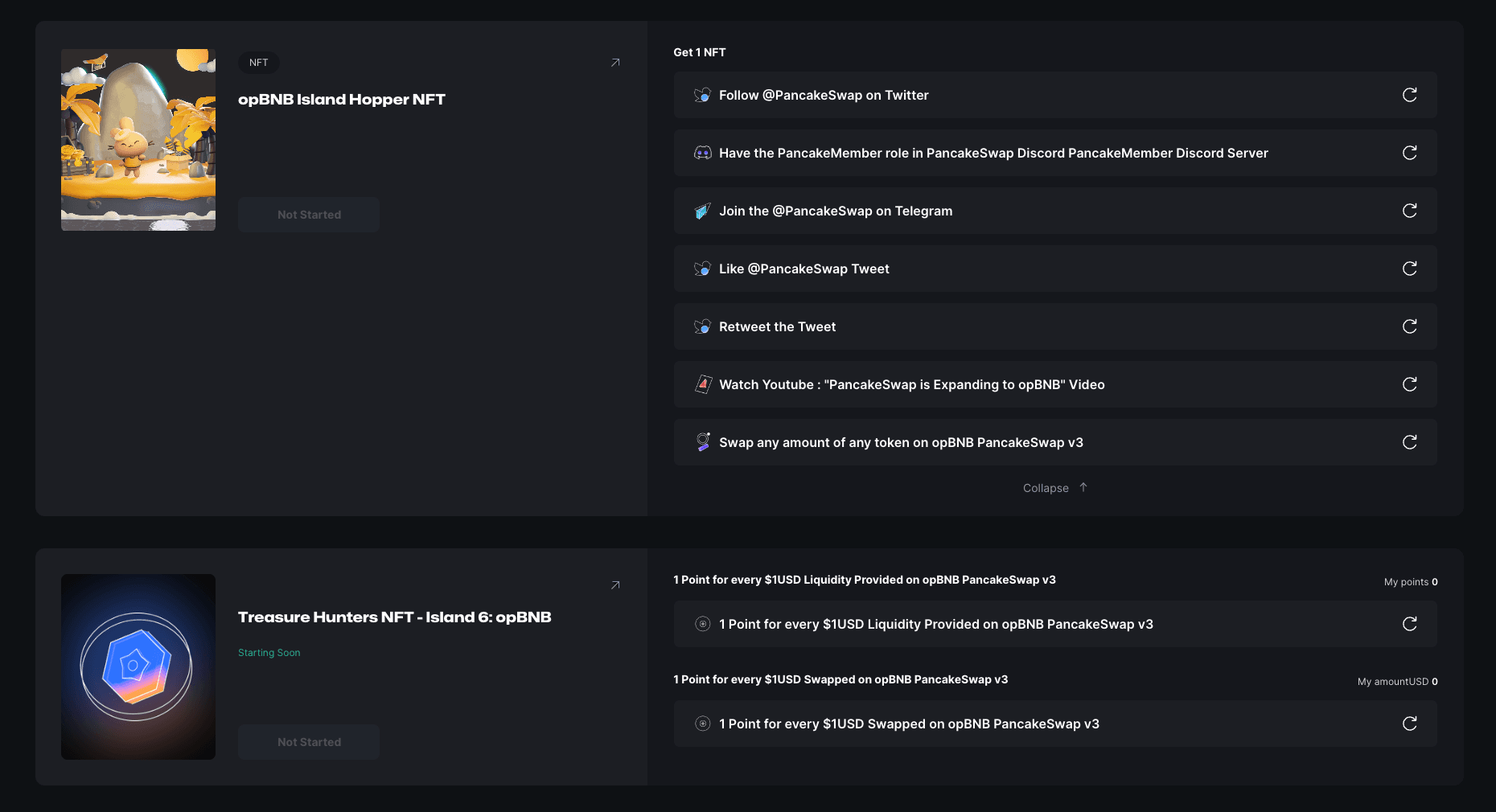 Embark on a thrilling journey as we unveil the sixth island in the "Traverse the Treasure Islands" Galxe campaign. Integrating PancakeSwap on opBNB opens the door to exclusive NFTs through token swaps, liquidity provision, and exciting social tasks. Dive in and experience a new level of engagement and rewards.
Please note that if opBNB provides any incentives, we will distribute them among various stakeholders, including the CAKE community, CAKE stakers, projects contributing to PancakeSwap's development, and ecosystem contributors. However, opBNB has yet to communicate any incentives at this point. We encourage our users to actively participate in the opBNB ecosystem and take full advantage of the "Traverse the Treasure Islands" campaign.
Embrace the Future with PancakeSwap v3 on opBNB
We're thrilled to introduce PancakeSwap v3 on opBNB, a leap forward that enhances the capabilities of the BNB Chain's ecosystem. As we continue to pave the way for DeFi innovation, we invite you to participate in this exciting journey. Discover unparalleled performance, lower fees, and a world of opportunities.
Stack'em,
The Chefs